business
French Are Left Reeling as May Mulls Nuclear-Power Dilemma
By and
New prime minister could dump project and blame Cameron

U.K. concerns are over Chinese involvement and rising cost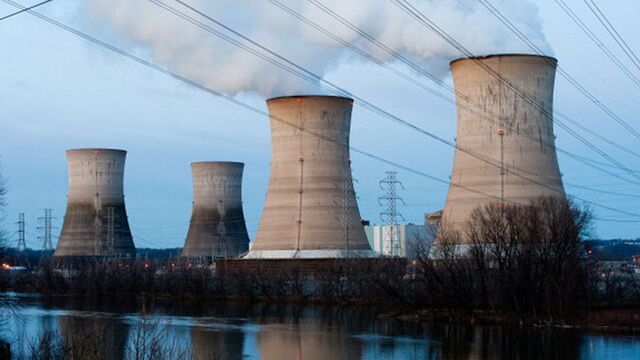 Francois Hollande has had concerns for at least a week about whether Theresa May's government was committed to the Hinkley Point nuclear plant. The cool public response the U.K. gave the deal matched the new prime minister's private comments when the French president asked her about it in their first meeting.
Even so, the French were stunned on Thursday evening when Britain said it needed more time to think about the plan. A planned signing was canceled. Hollande, with an election coming next year, has been attacked by labor unions who say the 18 billion-pound ($24 billion) project could bankrupt state-owned Electricite de France SA.

"The U.K. needs a reliable and secure energy supply and the government believes that nuclear energy is an important part of the mix," Business and Energy Secretary Greg Clark said in a statement. "The government will now consider carefully all the component parts of this project and make its decision in the early autumn."
May has been prime minister less than three weeks, following an unexpectedly short campaign to succeed David Cameron in the wake of Britain's vote to leave the European Union, and Hinkley Point is just one among many problems the new leader didn't expect to find in her lap. Now that it's there, she has a small window in which she can reject it and blame her predecessor for the mess.
First Meeting
It's still not clear whether she will. May and Hollande had their first discussion about the subject during a meeting in Paris on July 21. This was the first time the two leaders had had any substantial conversation about anything, and the main focus of the talks was Brexit. But as they went over other issues, Hollande brought up Hinkley Point. According to people who were present, May responded that it was a matter for EDF, and that it was very early days for her government.
The French, used to Cameron's enthusiasm for the deal, were troubled. Did this signal a change of policy, or simply a change of style from a woman with a less exuberant temperament than her predecessor?
Clark had a meeting on Friday morning in London with the CEOs of EDF and China General Nuclear Power Corp., which is funding a third of the project, in an effort to reassure them. He told them May wanted time to understand the details of the deal, according to two people familiar with the discussions, and that this didn't mean U.K. policy had changed. He suggested an answer would come in September.
Home Secretary
Much is unknown about the views of Britain's new prime minister on a range of issues. Even though she's been at the forefront of British politics for well over a decade, her style has been to hold her cards close to her chest.
Only rarely has she strayed from the brief she's held for the last six years as home secretary, overseeing the police and the security service MI5. If she has given much thought to nuclear power in that time, it will have been from a security perspective, and this may be significant, given the Chinese involvement.
"There are probably three things going on," said Joel Kenrick, a political adviser to Energy Secretary Chris Huhne from 2010 to 2012. "One is skepticism about the Chinese involvement in the project, I'd be surprised if the Home Office and its related organizations didn't have concerns about that. Then there's that so much has changed about energy in the last few years. And the third element might be her wanting to say 'I'm in charge, don't think things are going to be the same."'
Energy Calculus
A study by Britain's National Audit Office published July 13 set out the way the energy calculus has shifted in recent years. The government's projections of the cost of wholesale energy in 2030 fell 22 percent between 2012 and 2015, the result of declining prices for fossil fuels, as well as the increase in renewable sources. The U.K. agreed the price that would be paid for energy from Hinkley Point in October 2013 and in the past year, the expected subsidy has more than doubled to 37 billion pounds.
There is also the question of how secure it would be. Whereas Cameron and former Chancellor of the Exchequer George Osborne saw China as a potential investor to be wooed, May has spent her time in government dealing with people who view the country much more as a threat.
May's joint chief of staff, Nick Timothy, last year described the decision to allow Chinese involvement in the project as "baffling." He raised the prospect of China being able to shut down British energy production "at will" in an article for the Conservative Home website.
Brexit Talks
But there are risks to blocking the deal. It would infuriate the French, a needed ally in the Brexit talks. It would also lead to a dispute over where the costs of unwinding the project should fall. And there would be a hole in Britain's future energy supply -- Hinkley Point was supposed to deliver about 7 percent of the country's electricity needs.
It could also make it more difficult to agree deals on the five other nuclear projects that are due to follow this one. Aside from Clark, the only member of the new government to comment on Hinkley Point has been Chancellor of the Exchequer Philip Hammond, who said on July 14 that he was "confident" it would go ahead.
The Confederation of British Industry, which represents 190,000 businesses, urged the premier to fully commit to the project.
'Timely Decisions'
"While it is understandable the government wants to get to grips with the details of the Hinkley contract, it must press ahead to finalize the deal as soon as possible," CBI Deputy Director-General Josh Hardie said in a statement. "The U.K. is facing a major investment challenge to ensure a secure, low-carbon and affordable energy supply. It's crucial that we see clear and timely decisions, and send a definite message that the U.K. is well and truly open for business."
May is likely to take more notice of the CBI than the opposition Labour Party, which urged her to carry out a full review of the deal before renegotiating it.
"My assumption is still that the U.K. will probably sign off on it," said Kenrick. "But then, I can't actually see it being built. EDF have just got such a poor track record."
— With assistance by Mark Deen, Geraldine Amiel, and Jess Shankleman
(
Adds conversation between Clark and company CEOs in seventh paragraph.
)
Before it's here, it's on the Bloomberg Terminal.
LEARN MORE