Clinton Simplifies Stats, Glosses Over Pay-for Details in Speech: Fact Check
The Democratic presidential nominee's speech sometimes took liberties with the facts.
By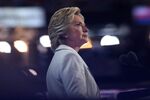 Hillary Clinton made history on Thursday by becoming the first American woman accept a major party nomination for president.
Here's a look at her claims on the final night of the Democratic convention in Philadelphia, and how they stack up with the facts.
Economy
CLINTON: "When more than 90 percent of the gains have gone to the top 1 percent, that's where the money is."
THE FACTS: It's complicated. Economist Emmanuel Saez reported in January of 2015 that 91 percent of the income growth in the U.S. between 2009 and 2012 went to the top 1 percent of wealthiest taxpayers. Saez updated that finding in June of 2015 to reflect additional years and found something different: The top 1 percent received 58 percent of income gains from 2009 to 2014, the five-year period following the economic crisis.
CLINTON: The auto industry "just had its best year ever. That's real progress."
THE FACTS: Correct. Sales of autos in the U.S. set a record in 2015 of 17.5 million cars and light trucks.
CLINTON: "Now, here's the thing, we're not only going to make all these investments, we're going to pay for every single one of them."
THE FACTS: That's close, but not quite accurate, according to an analysis by the nonpartisan Committee for a Responsible Federal Budget. It found that over a decade, Clinton's tax proposals would raise about $1.2 trillion in new revenue, while her major spending proposals would cost almost $1.5 trillion. After that analysis, Clinton announced a proposal to eliminate tuition at in-state public colleges and universities for families with annual incomes up to $125,000. It is estimated to cost tens of billions of dollars annually. Clinton's campaign has said the cost would be covered by by closing off certain tax advantages, especially those used by hedge funds and private equity firms—but the details aren't clear.
Foreign Policy
CLINTON: "I'm proud that we put a lid on Iran's nuclear program without firing a single shot—now we have to enforce it."
THE FACTS: A report in March by the Congressional Research Service found that the Iran nuclear accord has "lessened, although not eliminated, U.S. concerns about Iran's nuclear program." While Clinton helped arrange secret talks with Iran, the eventual agreement between Iran and world powers was negotiated by her successor as secretary of state, John Kerry.
Trade
CLINTON: "If you believe that we should say no to unfair trade deals … join us."
THE FACTS: Clinton came out in October against the Trans-Pacific Partnership, a priority of the Obama administration, in October under pressure from progressives. It was a reversal. She had previously praised the emerging accord in 2012, while she was secretary of state, as "gold standard in trade agreements."
Education
CLINTON: "We gathered facts. We built a coalition. And our work helped convince Congress to ensure access to education for all students with disabilities."
THE FACTS: Clinton worked for the Children's Defense Fund as her first job out of law school. The group's work led Congress to in 1975 pass the Education for All Handicapped Children Act. But when she was first lady, her support for welfare reform led to a falling out with the Children's Defense Fund and its founder Marian Wright Edelman.
Health Care
CLINTON: "Twenty million more Americans with health insurance" than when President Barack Obama took office.
THE FACTS: That's accurate, according to a March 2016 report by the Department of Health and Human Services, which said 20 million people had gained health insurance coverage due to provisions under the Affordable Care Act of 2010, including to the law's subsidies, Medicaid expansion and rules letting young people under 27 remain on a parent's policy.
Guns
CLINTON: "I'm not here to repeal the Second Amendment. I'm not here to take away your guns. I just don't want you to be shot by someone who shouldn't have a gun in the first place."
THE FACTS: Clinton is correct in that she has not called for eliminating the Second Amendment, and the gun control proposals she has endorsed, such as mandatory background checks, are permissible under Supreme Court precedent. Clinton has, however, come out against a 2008 Supreme Court ruling that expanded gun rights by finding an individual right to possess a firearm for self-defense in the home.
Immigration
CLINTON: "Comprehensive immigration reform will grow our economy and keep families together—and it's the right thing to do."
THE FACTS: The nonpartisan Congressional Budget Office, in an analysis of the leading immigration reform bill in 2013, found it would increase spending by $262 billion over 10 years while increasing revenue by $459 billion over the same time period.
—With assistance from Brendan Greeley, Angela Greiling Keane, Larry Liebert, Bill Faries, John Voskuhl, Lynnley Browning, and Laura Curtis.
Before it's here, it's on the Bloomberg Terminal.
LEARN MORE