Democratic Campaign Committee Says It Too Was Hacking Victim
By and
Cyper expert says Russian hackers diverted potential donors

Disclosure comes as FBI investigates hacking attack at DNC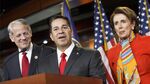 The Democratic Congressional Campaign Committee confirmed that it was the target of a hacking attack, fresh evidence of what cybersecurity experts call a broad campaign by Russian hackers to infiltrate U.S. political organizations.
"The DCCC can confirm that we have been the target of a cybersecurity incident," Meredith Kelly, press secretary for the organization, which helps raise funds to elect House Democrats, said in an e-mailed statement. "We are cooperating with the federal law enforcement agencies with respect to their ongoing investigation."
The group's website was altered so that visitors seeking to make a donation were redirected to a server controlled by hackers linked to the Russian government, said John Hultquist, manager of cyber espionage intelligence for FireEye Inc. The cybersecurity company hasn't been able to determine if the hackers intercepted the donations or succeeded in planting malware on the computers of those visitors, Hultquist said.
Roiled Campaigns
Attacks on Democratic organizations, including the Democratic National Committee, have roiled the 2016 political campaigns. The disclosure by WikiLeaks last week of purloined party e-mails forced the head of the DNC to resign as Democrats gathered for their presidential convention. The breach has stirred allegations that Russia is seeking to meddle in the U.S. election, an assertion Russian officials have repeatedly denied.
"Any of the allegations that circulate here in the U.S. about Russia's involvement are groundless," Yury Melnik, a spokesman for Russia's embassy in Washington, said Friday in a phone interview. "There's no attempts whatsoever to meddle with the political process or the results of the election. The Russian government is ready and willing to work with the current administration and any future administration."
Kelly of the DCCC said it's been "advised by investigators that this is similar to other recent incidents, including the DNC breach." The FBI has confirmed that it is probing that attack, though it didn't immediately respond to requests for comment on Friday regarding the latest revelation.
White House spokesman Eric Schultz told reporters Friday that the FBI has "confirmed an investigation into the intrusion at the Democratic National Committee. I imagine those investigations are not conducted in isolation. So if there is connected events that they would look at, that would be part of their investigation."
The attack on the DCCC affected visitors who went to its website from June 19 to June 27, FireEye concluded, based on an analysis of internet traffic.
Those visitors were steered to a server controlled by a hacking group known as APT 28, Hultquist said. Other cybersecurity researchers have said APT 28 is an arm of Russia's military intelligence service GRU, he said.
Published on WikiLeaks
The attack on the DNC resulted in the theft of e-mail and internal reports, some of which have since been published by WikiLeaks. Russia is a leading suspect in that intrusion, according to a U.S. official with knowledge of the probe who asked to not be identified because the inquiry is continuing. Private cybersecurity companies have said they traced the DNC attack to groups in Russia.
DNC Chair Debbie Wasserman Schultz was forced to resign after a firestorm over leaked e-mails that showed committee staffers favored Hillary Clinton and attempted to undermine Senator Bernie Sanders for the Democratic presidential nomination.
In response to speculation that Russia is attempting to influence the outcome of the U.S. presidential race -- and might even seek ways to tamper with electronic voting -- Schultz, the White House spokesman, said, "As we've seen in the past, Russia has tried to influence elections in Europe. We take seriously their past record on this. We also take seriously the integrity of our voting system."
Clinton and Trump
Clinton adviser Jake Sullivan said Wednesday that the nominee has been briefed on hacking of the DNC and has been told that the weight of expert opinion is that Russia was involved.
"She does not view this as a political issue, she views this as a national security issue," he told reporters gathered in Philadelphia for this week's Democratic National Convention. Russia has a history of interfering in elections in other countries, he said.
"Unlike Donald Trump, who praises Putin" and adopts his positions, "Secretary Clinton will stand up to Putin," Sullivan said.
Trump, the Republican presidential nominee, this week urged Russia to make public "30,000 e-mails that are missing" from the private server that Clinton maintained when she was secretary of state. He later said he was being "sarcastic."
— With assistance by Toluse Olorunnipa, and Angela Greiling Keane
Before it's here, it's on the Bloomberg Terminal.
LEARN MORE