Chinese Capital Outflows May Still Be Happening — But In Disguise
Over-invoicing imports is not just a Hong Kong story.
By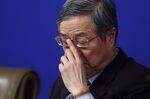 When there's a will to get money out of China, there's a way: overpay.
Authorities in the world's second-largest economy have been able to pursue a policy of managed depreciation for the Chinese yuan without spooking markets and eliciting expectations of major foreign-exchange volatility, the way the one-off devaluation did last August.
One big reason is that Beijing seems to have had success in cracking down on the flood of money leaving the country, which had been prompting sizable drawdowns in the central bank's foreign currency reserves, to prop up the value of the yuan.
But a report from a Nomura Holdings Inc. team led by Chief China Economist Yang Zhao says these capital outflows have merely taken another form: the over-invoicing of imports from select locales. And this time, it's not just a Hong Kong story.
"A detailed breakdown by region shows imports from some tax haven islands or offshore financial centres surged" in the first half of the year, he writes, "against the backdrop of a large decline in overall imports."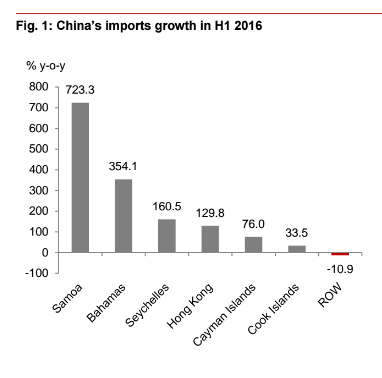 Now, it may be the China's appetite for copra and coconut oil, two key Samoan exports, has indeed surged.
But Zhao has a different explanation.
"This suggests to us that capital outflows may have been disguised as imports in China's trade with these tax-haven or offshore financial centres, though the precise volumes are unknown," according to the economist. "With stronger capital controls in place we believe continued capital outflows via the current account are likely."
Before it's here, it's on the Bloomberg Terminal.
LEARN MORE