Carney Takes Second Look at Brexit as BOE Readies Stimulus Plan
By and
Most economists forecast 25bps rate cut to 0.25% on Aug. 4

Majority see other measures but divided on makeup of package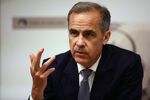 Take Two at the Bank of England means action.
That's the conclusion of almost all economists surveyed by Bloomberg, who predict the central bank's second decision since Britain's vote to leave the European Union will involve an interest-rate cut. Such a move would see Governor Mark Carney delivering on his summer stimulus signal after officials shocked investors by standing pat in July.
The Monetary Policy Committee is debating a range of measures amid signs that the economy is slumping. While Chancellor of the Exchequer Philip Hammond has indicated a willingness to "reset" fiscal policy, he's yet to unveil anything concrete, leaving Carney in the vanguard of Britain's economic response.
"Soft data for confidence, lending and business conditions suggest a near-term stagnation with a high risk of recession," said Kallum Pickering, an economist at Berenberg Bank in London. "If you can send a big signal to markets that as a central bank you will step in to try and prevent any of these really worrying downside risks from materializing, the way to do that is to surprise with a fairly big package."
New Forecasts
The BOE will publish its decision at noon in London on Thursday, alongside MPC members' votes and new economic forecasts. In July, when officials voted 8-1 to keep the benchmark unchanged, the record of the gathering showed "most" of them expected loosening in August.
A rate reduction would be the first change in seven years, when officials were in the midst of battling the recession sparked by the financial crisis. Forty-five of 47 economists surveyed predict the key rate will be lowered on Aug. 4, with the majority seeing a 25 basis-point cut to 0.25 percent.

While most forecasters predict additional measures, they are divided on what that might be. The most commonly cited other instrument is an expansion of the BOE's quantitative-easing program from 375 billion pounds ($496 billion).
"Carney's given us a steer toward a package," said Victoria Clarke, an economist at Investec Securities in London. "It's a tough one because they've used a lot of their firepower but at the same time they need to be reassuring markets that there is more they can do."
'Pretty Aggressive'
The survey also showed policy makers may choose to widen the range of assets they can buy, extend and broaden their Funding for Lending Scheme, adjust the horizon over which they aim to get inflation back to target or employ additional bank refinancing operations.
Underpinning the MPC's discussions will be a new assessment of the economic outlook, with most forecasters predicting the central bank will lower its growth forecasts through 2018 and raise its inflation projection to reflect a slide in the pound. While officials Gertjan Vlieghe and Andy Haldane have already signaled a willingness to prioritize shoring up the economy over hitting the BOE's 2 percent inflation target, Kristin Forbes advocated a more measured approach.
A report showing the fastest contraction in business activity in seven years prompted Martin Weale to change his view, advocating more stimulus just a week after saying he needed to see more evidence of a slowdown.
"We think the BOE will be pretty aggressive in August, especially due to the weak PMIs," said Mikael Olai Milhoj, an analyst at Danske Bank A/S. "However, given the BOE did not move in July, the risk is that the BOE will disappoint again."
Still, even those economists who forecast officials will not go beyond lower borrowing costs say further action could come later this year.
"I reckon the BOE will want to keep some dry powder in the event that the weakness in the sentiment data materializes in the hard data," said Peter Dixon, an economist at Commerzbank AG, who predicts officials will only cut rates by 25 basis points on Aug. 4. "Whatever the outcome, the MPC minutes can be expected to hold the door open to further action. Nothing will be ruled out in future."