California Says Its Claims in Uber Case Could Exceed $1 Billion
Joel Rosenblatt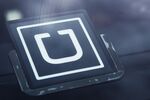 A California state agency told the federal judge reviewing Uber Technologies Inc.'s $100 million settlement with drivers that state claims for labor violations related to the case are estimated at more than $1 billion.
The California Labor and Workforce Development Agency said in a court filing that there was "no rationale" for the $1 million allotted for those claims under the settlment.
Before it's here, it's on the Bloomberg Terminal.
LEARN MORE