Brazil's Former President Lula, BTG's Esteves Formally Charged
By and
Seven people charged with trying to silence state witness

Defendents have 20 days to present preliminary response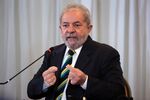 Brazil's former President Luiz Inacio Lula da Silva and six other people, including Andre Esteves of BTG Pactual, were formally charged by a federal judge for allegedly interfering in the country's largest-ever corruption investigation.
Lula, Esteves and the others are accused of trying to obstruct the graft probe known as Carwash that has rocked Brazil's political establishment and led to the arrest of some of the country's top business leaders. Extensive corruption in Brazilian public companies has been unveiled by police investigations with the help of dozens of plea bargain deals. 
Former Senator Delcidio Amaral and other associates of Lula were also charged, according to the text of the decision, signed by a federal judge from Brasilia. The defendants have 20 days to present their preliminary defense, the decision says.
Lawyers representing Lula said the former president has never interfered or tried to interfere with investigations. A lawyer responsible for Esteves's defense reaffirmed that he didn't commit any wrongdoing.
Lula on Thursday petitioned the United Nations over alleged human rights violations by Judge Sergio Moro, who has spearheaded the Carwash probe in the federal court of Parana state. He requested that Moro be removed from the case for overstepping his legal authority.
Esteves stepped down as Chief Executive Officer of BTG Pactual after being jailed in November and put under house arrest the following month. The investigation led some investors to pull their assets from the bank, forcing it to tap a 6 billion-real ($1.8 billion) credit line with the nation's privately-backed deposit-guarantee fund. BTG also sold units, including its distressed asset management firm Recovery do Brasil, to boost liquidity.
In April, Esteves was freed from house arrest and returned to the bank as a senior partner. Last week, prosecutors accused him of trying to obstruct the Carwash investigation.