AB InBev Rises on Optimism SABMiller Deal Will Get Done
By
Shares gain as much as 2.5% in Brussels after earnings miss

Brewer warns that Brazilian revenue will stagnate this year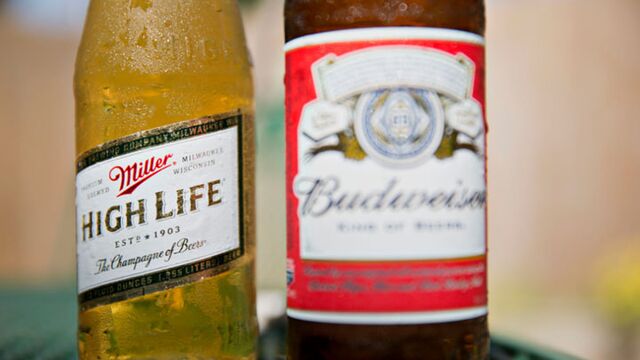 Anheuser-Busch InBev NV shares rose on optimism the world's biggest brewer will manage to get enough shareholder support to complete its $103 billion bid for SABMiller Plc even after the brewing industry's biggest deal hit a snag this week.
The stock rose as much as 2.6 percent in Brussels. Marshall Wace LLP, a London-based hedge fund, said Friday it supports the new bid and controls more than 1 percent of SABMiller's stock. The Belgian brewer Friday repeated it aims to complete the acquisition this year as it reported second-quarter profit growth that missed analysts' estimates on challenging markets in South America.
''On a normal day we would expect the shares to come under some pressure this morning," wrote Jonathan Fyfe, an analyst at Mirabaud. ''However, last night's news that numerous SABMiller shareholders have declared themselves in favor of the bid may well provide a handy offset."
Faced with declining popularity of its big brands in the U.S. and western Europe, Chief Executive Officer Carlos Brito has spent the past 10 months pursuing SABMiller. That bid hit a snag after the pound slumped due to the U.K.'s vote to leave the European Union. Earlier this week AB InBev raised its offer one last time, and SABMiller froze all contact with the company on integration, raising the possibility the largest deal in brewing history may sputter out.

Shares Gain
SABMiller gained as much as 1.7 percent to 43.97 pounds in London. AB InBev raised the bid Monday to either 45 pounds per share or a cash-and-shares alternative worth about 50.72 pounds.
Earnings rose 4.3 percent to $4.01 billion on an adjusted basis before interest, taxes, depreciation and amortization as shipments unexpectedly fell 1.7 percent, the maker of Stella Artois said. Analysts expected 6.9 percent earnings growth. AB InBev said Brazilian revenue will stagnate despite next month's Olympic games in Rio de Janeiro.
'Poor Quarter'
"Another poor quarter," wrote Eamonn Ferry, an analyst at Exane BNP Paribas. ''That's four out of the last five quarters now. This miss comes against the background of a very undemanding comparable base. This seems a little odd, but then again perhaps AB InBev have no massive incentive to knock the ball out of the park right now given the current tension with regard to the SABMiller offer price."
Consumption is suffering in Brazil due to increased taxes, a change in government, a sliding economy and the outbreak of the Zika virus. In the first quarter of the year, weakness in Brazil led to its worst sales in northern Latin America since 2009, and AB InBev said Friday the weakness lasted longer than expected, forcing it to abandon its forecast for revenue growth in Brazil this year.
"Brazil is facing a very tough consumer environment, inflation is high, wages are under pressure and we had a very tough quarter," Brito said on a call with reporters. "We are seeing sign of macroeconomic improvement and try to take a long-term view, and Brazil is still a great place to do business."

AB InBev's Skol lager brand is sponsoring the summer games in Rio and will host Skol Villa, a drinking venue in the Olympic Park. The company will seek to promote Skol Ultra, a light beer aimed at consumers with active lifestyles, Brito said.
The Leuven, Belgium-based company had previously forecast Brazilian sales would grow by mid-to-high single digits in 2016.
The brewer also lowered its forecast for cost of sales on more efficiency measures.