Yen Traders on Edge as Abe Highlights BOJ Whiplash Anxieties
by
Investors frustrated as liquidity gaps increase trading costs

Volatility climbing in bonds, yen amid rallies for both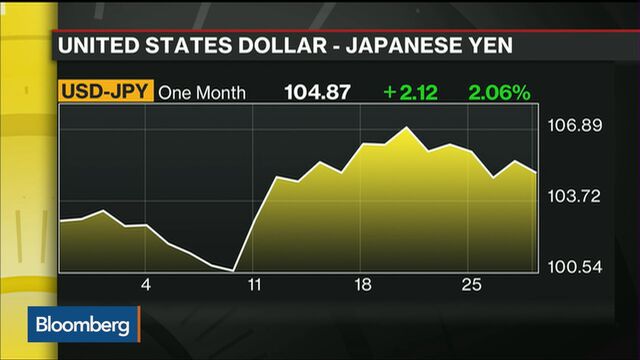 Wednesday's swings in the yen against the dollar look to be the prologue for a very volatile Friday as economists, investors and traders await Bank of Japan Governor Haruhiko Kuroda's monetary policy pronouncement.
The world's second-most traded currency pair see-sawed in a 1.3 percent range during a two-hour deluge of news reports and official comments around Prime Minister Shinzo Abe's announcement his fiscal stimulus package would exceed 28 trillion yen ($266 billion), outstripping many market estimates. The Finance Ministry also quashed a Wall Street Journal report it may sell 50-year government bonds, which had boosted yen-bearish bets for central bank-funded government stimulus. Overnight implied volatility in the dollar-yen pair surged to a post-financial crisis high above 50 percent Thursday.
"The only implausible scenario is dollar-yen trading quietly on Friday," said Sean Callow, a senior foreign-exchange strategist at Westpac Banking Corp. in Sydney. "Buckle up."
Japan's debt market -- the world's largest outside the U.S. -- has also seen volatility climb. So has concern the BOJ's unprecedented 80 trillion yen a year in bond purchases are hampering the market's capacity to function smoothly.
Even dollar-yen trades -- which account for 18 percent of the $5.3 trillion a day global currency market -- saw stresses Wednesday, with one trader saying investors were frustrated after a drop off in liquidity widened the gap between bids and asks to 0.05 yen from 0.03 yen, making transactions more costly.
The following four charts highlight some of the pressure points as the BOJ meets:

The yen entered Wednesday after its biggest surge since June 24, when it became clear the U.K. had voted to leave the European Union, and then gave all that back and more at the peak of Wednesday's slide, only to rebound as much as 1.3 percent from the intraday low of 106.54. It ended the day at 105.40 per dollar, compared with 105.36 at noon Wednesday in Tokyo. It was 104.83 at 7 a.m. on Thursday in London.

The currency has strengthened after every policy meeting this year, including in the days following the initial, knee-jerk weakening on the surprise announcement of negative interest-rate policy in January. With a gain in 2016 of 14 percent against the dollar -- the most of any major developed-market currency -- that is a pattern Kuroda probably wants to avoid.

Kuroda has said that his unprecedented stimulus should depress yields, but with that has come much higher volatility, as the BOJ's massive asset purchases deplete liquidity. The spike in market swings in January was the biggest since the months after Kuroda launched his program in 2013.

Another unintended consequence of monetary stimulus has been a stronger yen. Quantitative easing tends to depreciate a currency, but the flattening of the yield curve that Kuroda has mentioned as a goal of his policies has also been buoying the exchange rate.
Kuroda faces the biggest weight of market expectations since his debut. But markets themselves will make it hard for him to meet them.
Before it's here, it's on the Bloomberg Terminal.
LEARN MORE