Why Wall Street Is Raving About Facebook's Earnings Report
A second-quarter master class in mobile monetization.
by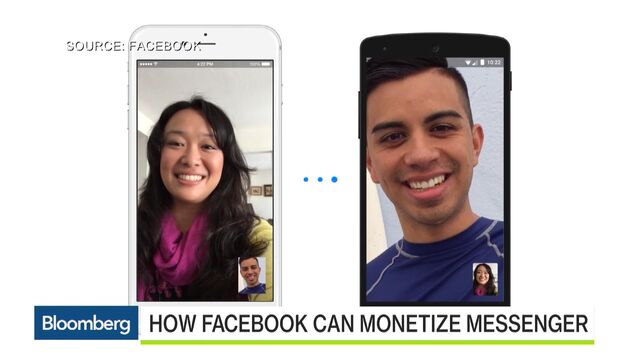 Analysts on Wall Street are scrambling to raise their price target on shares of Facebook Inc. after the social media giant reported second-quarter earnings and sales that far surpassed the consensus estimates.

Despite a fierce battle for mindshare — intensified by the rise of competing apps like Snapchat Inc. and the new potential threat of augmented reality gaming — Facebook has retained an immense following of over 1 billion daily active users.
Praise from analysts was effusive and nearly universal — though some highlighted cautionary commentary from management or short-term blips in performance that could turn into negative trends for the company. Here's what Wall Street is saying about Facebook's blowout earnings report.
Macquarie Capital Inc.'s Ben Schachter (Outperform rating, price target raised to $155 from $150)
"When FB first went public, we said that as long as the audience is there, FB will find ways to make money. Years later, the audience is still there (and, remarkably, still growing) and FB is still making money (much, much more than expected). We expect this theme to continue ... While we are watching the growth of new social platforms such as Snapchat, Musical.ly, and others closely, as long as the audience remains at FB properties, we think investors should stick with the name."
Deutsche Bank AG's Ross Sandler (Buy rating, price target hiked to $170 from $160)
"Stepping back from the metrics, FB feels very similar to GOOG from '2006-2008, its multiple is compressing despite incredible financial results. GOOG's multiple stopped going down at 24 times EPS [earnings per share] prerecession, a few turns down from where FB currently trades, and was a money-maker during that era. Hence we see upward estimate revisions and new innovation driving the stock higher (vs. multiple expansion) from here."
Pivotal Research Group's Brian Wiser (buy rating, price target edged up to $167 from $166)
"To give a sense of the scale of Facebook's beat, its advertising outperformance versus consensus expectations was almost as large as the total advertising revenue base in the quarter for the industry's #4 player, Twitter."
Morgan Stanley's Brian Nowak (Overweight rating, price target upped to $150 from $140)
In a quarter with investors concerned Snapchat was negatively impacting Facebook's opportunity, FB delivered 4 percent better than expected advertising revenue, the strongest second-quarter daily user growth in five years and rising time spent per user."
Bank of America Merrill Lynch's Justin Post (Buy rating, price target upped to $150 from $145)
"Growing engagement helps offset recent concerns: Daily users grew 17 percent (above our 16 percent estimate), the DAU/MAU (daily active users/monthly active users) ratio was stable at 66 percent, and time spent/user was up more than 10 percent, key positives given competitive concerns. Facebook highlighted new video products (Live videos, suggested videos) and we expect video to be the next leg of engagement growth. Given Facebook's app portfolio (1 billion users for Messenger), we continue to see the mobile transition as a bigger tailwind for Facebook than its Internet media peers."
Goldman Sachs Group Inc.'s Heather Bellini (Buy rating, price target raised to $162 from $142)
"Facebook remains in the sweet spot of digital advertising trends and remains well positioned to increase its share of wallet as well as to help grow the overall category given its reach and effectiveness for advertisers. The strength in the core Facebook app is continuing and newer monetization opportunities such as Instagram are quickly following as MAUs and the number of advertisers is growing. When coupled with emerging bets on platforms such as Messenger and WhatsApp, we continue to see an unparalleled product roadmap."
Piper Jaffray & Co.'s Gene Munster (Overweight rating, price target upped to $185 from $170)
"Facebook management highlighted their typical approach to products, which consists of three phases. Phase one is to grow the user base and engagement. Phase two is to work on enabling organic interaction between businesses and consumers. Phase three is commercializing the platform. The company stated that WhatsApp and Messenger are in the early stages of phase two. We believe that phase two will likely be a two to three year process. Remembering back to Instagram, which is perhaps more naturally conducive to commercial relationships, we believe that businesses were using Instagram to sell in earnest for around two to three years before Facebook began experimenting in ad formats on the platform. Overall, we believe this means it's unlikely that we will see any contribution from WhatsApp or Messenger before 2019 at the earliest."
Citigroup Inc.'s Mark May (Buy rating, raised price target to $148 from $141)
"The main debates for FB investors will be if mgmt's comments about ad load growth and change in user engagement trends represent risks...We believe recent robust revenue growth is sustainable as there are a number of factors (e.g. introduction of video, Instagram, Messenger and WhatsApp monetization, further platform improvements) that should contribute to further revenue gains."
Stifel Nicolaus & Company's Scott Devitt (Buy rating, upped price target to $155 from $145)
"Facebook also has no plans to implement pre-roll advertising on videos in the News Feed as the company believes this would create a bad user experience. Although some investors may have been expecting significant monetization of Messenger/WhatsApp in the near term, management noted these platforms are still in the process of building organic interactions between businesses and consumers and are unlikely to be material contributors to revenue this year. However, we think growing contributions from Instagram can help Facebook fuel revenue growth until messaging is ready for mainstream monetization."
JMP Securities LLC's Ronald Josey (Outperform rating, raised price target to $165 from $147)
We believe FB is expanding the broader online advertising market as advertisers increasingly turn to the platform given its reach, targeting capabilities, and ROI. This, as engagement remains strong with mobile daily active users crossing 1 billion with time spent across Facebook, Instagram, and Messenger growing double-digits year-over-year in 2Q; management highlighted strong engagement across teens and millennials. If there is any pushback, we would highlight management's commentary that ad load growth would be less of a factor for advertising growth beginning in mid-2017. However, we believe this is more focused on core Facebook as Instagram's ad load is still relatively low and with daily active user and time-spent growth remaining strong, impressions growth should continue.
Credit Suisse Group AG's Stephen Ju (Outperform rating, price target raised to $154 from $145)
"While there may be some controversy around management's comment that ad load should be less of a revenue growth driver in the future (particularly in [the second half of 2017]), we submit that this is exactly what Facebook should be doing – driving shareholder value through continuous targeting improvements and favorable product while at the same time mitigating consumer engagement risk."
Nomura Holdings Inc.'s Anthony DiClemente (Buy rating, price target hiked to $155 from $145)
"Video's impact: big and getting bigger. Mark Zuckerberg began the call by stating that Facebook is becoming a "video first" company. These comments were followed by Sheryl Sandberg highlighting the strong ROIs Facebook video ads are delivering to brand advertisers. The magnitude of these trends are likely to only increase through 2017, as expanded live content benefits user engagement and the shift in ad budgets from traditional media platforms to Facebook video likely accelerates."
UBS Securities LLC's Eric Sheridan (Buy rating, hiked price target to $155 from $150)
"In a nutshell, we believe Facebook is the large cap company in the space that continues to demonstrate across-the-board operating beats by growing at [circa four times] industry levels (in terms of digital advertising), while continuing to innovate/iterate on both user interface and ad products (all at a compelling risk/reward when measured on multiples-to-growth on 2017 estimates)...We were less positive on: a) full year capex guidance of  circa $4.5 billion, representing the high end of the prior range; b) lack of upside in payments revenue (8 percent year-on-year decline) despite first full quarter post-Oculus launch; and c) no additional clarity on the status of class C shares."
CLSA Americas LLC's James Lee (Buy rating, price target hiked to $180 from $161)
"Although ad load was a main driver and management cautioned that growth from ad load will slow down starting [the second half of 2017], we are not too concerned about this trend as the lift in ad supply is due to mix-shift to brand advertisers who are initially buying based on reach. As these advertisers get sophisticated leveraging advanced targeting and ad sequencing, we believe that pricing will become the main driver next year to replace ad load."
JPMorgan Chase & Co.'s Doug Anmuth (Overweight rating, price target raised to $170 from $161)
"Management acknowledged that usage patterns within younger users are shifting and people are spending more time on other services (including Insta, and WhatsApp, and non-FB services like Musical.ly, Live.ly, and Snapchat) depending on how they want to share, but we do not believe they are materially impacting overall engagement or monetization...We recognize that multiple expansion becomes tougher for a mega cap like FB, but from the current after-hours price of $129, representing 23 times [2017 estimated] non-GAAP EPS [earnings per share], we continue to believe there is room for both earnings upside and multiple expansion."
BMO Capital Markets Corp.'s Daniel Salmon (Market perform rating, price target raised to $145 from $120)
"Impressive ad revenue growth and share gains continue to overwhelm any concerns we have about future investment in content or the ramp of messaging app monetization...We look for an incremental thesis to get more proactive, and we're focused closely on the evolution of Messenger activity beyond communications to more everyday behaviors, especially commercial ones."
Oppenheimer & Co. Inc.'s Jason Helfstein (Outperform rating, upped price target to $150 from $140)
"We note headroom for short-term monetization as video/Instagram remains under-monetized, and FB continues to drive engagement through innovation. Longer term, there are opportunities to monetize commercial search, Messenger/WhatsApp and Live Video. Although management tried to talk down second-half revenues, we expect the near-term ad momentum to continue in a seasonally strong period."
Wedbush Securities Inc.'s Michael Pachter (Outperform rating, hiked price target to $162 from $145)
"We expect Facebook to continue its rapid growth overseas, and expect it to expand monetization of under-penetrated Instagram, WhatsApp and Messenger assets over the coming years. Investments in new initiatives position the company for long term growth, and we believe that these initiatives will drive growth over the next decade. In summary, we believe Facebook is a great company, period."
Before it's here, it's on the Bloomberg Terminal.
LEARN MORE