Why Some Young Women Say Ho-Hum to Clinton's Historic Achievement
Bernie Sanders—and President Obama's own historic first—have muffled the effect of her glass-ceiling-shattering.
By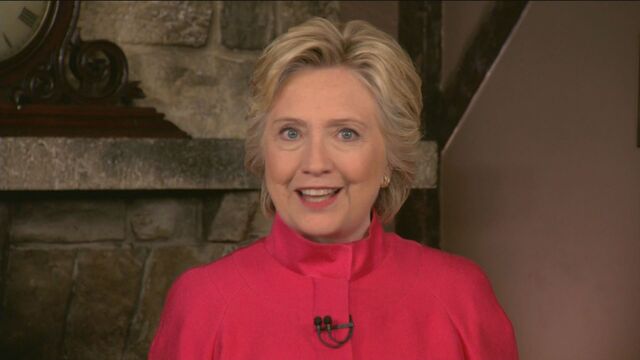 As Hillary Clinton prepares to accept her historic presidential nomination Thursday night, her campaign is still plagued by the generational shift evident throughout the primary campaign.
For older women interviewed at the Democratic National Convention in Philadelphia, Clinton's nomination is a validation of decades of hard work in the face of de facto and de jure sexism, and a shift that means young girls will be able to see themselves in the White House. But for younger women here, who overwhelmingly backed Bernie Sanders during the primary, there's less excitement than there was for the Vermont senator in 2016 or eight years ago for President Barack Obama when he became the first black man to win a party's nomination, and then the Oval Office.
Jessica Bright, a 30-year-old black woman and Clinton delegate from Walterboro, South Carolina, said she vividly remembers sitting in front of her television in 2008 when Democrats at the convention in Denver named Obama as their nominee. She rated her excitement then, for Obama, as a 10 or 15, she said, and her excitement for Clinton a six. She blamed her reduced enthusiasm on two factors: an inability to recreate the particular historic nature of 2008, and a stronger emotional connection to Sanders.
"She's pretty much the second act of breaking the glass ceiling and breaking a barrier," she said, pointing to Obama as the first barrier-breaker.
Bright said that over the course of the primary she switched her support from Clinton to Sanders and back again, swayed by Sanders' message but Clinton's better odds of defeating Republican Donald Trump. "She hasn't been able to appeal to the younger vote and that's because we had an awesome candidate in Bernie Sanders who was able to make it an emotional connection for us," she said.
During the 2008 campaign, Clinton seemed conflicted about emphasizing the potentially historic nature of her candidacy. Ultimately, her campaign team decided to emphasize her experience over Obama's message of hope and change. This time, her campaign seemed determined not to follow the same path, telling her supporters early on that though she wasn't the youngest candidate she would "be the youngest woman president in the history of the United States."
Just as younger women were more drawn to Obama's message in 2008, Sanders won the lion's share of their vote in the 2016 primary. In the 27 states where CNN conducted exit polls, Clinton beat Sanders by 24 percentage points among women overall, but lost by 37 points on average among women 18-29 years old. Clinton's campaign struggled over the course of the primary to address that gap without insulting the very supporters they hoped to win over.
In January, Democratic National Committee Chairwoman Debbie Wasserman Schultz implied the generational divide among women was the result of a lack of interest in defending abortion rights. "Here's what I see: a complacency among the generation of young women whose entire lives have been lived after Roe v. Wade was decided," said Wasserman Schultz, who is resigning her post at the end of the convention following the release of hacked committee e-mails showing staffers favoring Clinton over Sanders.
Feminist icon Gloria Steinem was criticized for implying that young women backed Sanders because "the boys are with Bernie," though she later said her words were taken out of context. Clinton herself said in April that she felt "sorry for a lot of the young people who are fed" misrepresentations of her record.
Clinton delegates who came of age in the 1960s and '70s shared a similar sentiment, that today's young women don't understand how far their predecessors have come. Elaine Geller, a 60-year-old marijuana lobbyist from Denver, said that when she graduated college, it was virtually impossible to get a job. "If you did manage to get a job, there's a good chance that your boss was going to lock the office door and tell you that you had to do sexual favors," she said. "We've seen changes over the years, but we've always known that there's still the hardest glass ceiling of them all." She urged young women to look at Clinton's website instead of gathering information from social media.
The Clinton campaign and the Democratic Party have emphasized that her nomination is a victory for young women and girls. In her Monday night address, first lady Michelle Obama said her daughters and other children would take it for granted that a woman can be president. In Clinton's Tuesday night video address, the nominee said, "I may become the first woman president, but one of you is next."
Supporters drew parallels to the role Obama has played in the lives of black children. "What we know, as she said last night, is that now little girls who are born from this day forward if she's elected for the first eight years, all they will ever know is a woman as president," said Blondell Reynolds Brown, a 60-year-old Philadelphia city councilwoman at-large. "For children that were born eight years ago, all they will ever know is President Barack Obama as a president who happened to be African-American."
Brown said her next step is to help young people like her daughter, a Sanders supporter, see what the stakes are in this election. 
"Now it's going to be my responsibility to help my daughter and her peers understand that this is bigger than them," Brown said. "Actually, it's all about them and their future."
—With assistance from Nicholas Johnston.
(
Corrects quote in 11th paragraph.
)
Before it's here, it's on the Bloomberg Terminal.
LEARN MORE