VIX Notes Flash Another Bullish Stock Signal as Traders Pile In
By
VXX has seen big inflows as the S&P 500 pushes advance higher

Shares outstanding on the VXX have risen 12 straight days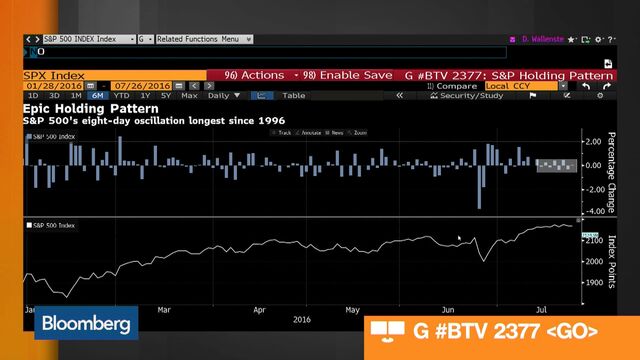 The trader love affair with exchange-traded notes that rise as stock market turbulence increases is getting torrid again. That's good news for equity market bulls, if history is any guide.
Since the start of July, the biggest ETN tracking the CBOE Volatility Index has absorbed $746 million of inflows, on pace for the most since 2012, according to Bloomberg data. The notes pay off when swings in shares widen, something that most commonly happens as the S&P 500 falls.

Unfortunately for their owners, past bouts of interest in the ETN have had an unnerving habit of foreshadowing the precise thing it's betting against -- namely, stock-market gains. The SPDR S&P 500 ETF tracking the benchmark gauge for American equity has risen more than twice its bull market average in months when the VXX saw inflows, data compiled by Ned Davis Research show.
"We can think of asset flows into VXX as a contrarian indicator, at least since the start of this secular bull market," Tony Welch, ETF strategist at Venice, Florida-based Ned Davis, wrote in a client note this week. "It's important to understand that the herd is generally wrong when they are loading up on volatility."
VXX rose 1.2 percent at 9:42 a.m. in New York, while the S&P 500 slid 0.2 percent to 2,161.43.
Volatility notes have been something of a graveyard for their enthusiasts over the last seven years -- unsurprisingly, since stocks have been in a bull market for most of that stretch. Generally speaking stocks have climbed when they bought things like the iPath S&P 500 VIX Short-Term Futures ETN, and fallen when they were pulling out.
Oddly, that's done little to dent their popularity. With the S&P 500 sitting less than 1 percent from its all-time high, shares outstanding in the ETN have increased in each of the last 12 days, the longest streak since it started trading in January 2009. Further, short interest on the VXX sits close to the lowest since 2013, according to data compiled by Markit Ltd.
Investors continuing to buy the VXX "might be thinking that we're entering an unsettled time, both on a seasonal basis and as the presidential election approaches," Steve Sosnick, an equity risk manager at Timber Hill LLC, the market-making unit of Greenwich, Connecticut-based Interactive Brokers Group Inc., said by phone. "But if they're owning it as some sort of market hedge, it's certainly shown that it's a poor hedge."