Uber, Didi Get Green Light to Rev Up Car-Sharing Wars in China
Bloomberg News
Long-awaited regulations to take effect from November

Conditions less onerous on ride services than feared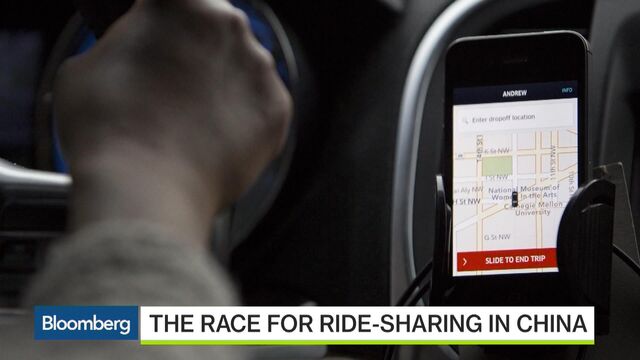 After pouring billions into the battle for ride-hailing supremacy in China, Uber Technologies Inc. and Didi Chuxing finally have a legal green-light in the world's biggest market.
China plans to formally allow the services from November -- even though both companies have operated in the country for years. The decision brings clarity to an industry locked in disputes with regulators and in courts across the globe.
The new regulations govern their operations and define the scope of competition, outlawing the ploy of charging less than the cost of a trip to win market share. But they turned out to be less onerous than some had feared and dispels the cloud of uncertainty hanging over companies such as Uber and Didi that till now lived in a murky gray area.
The laws, released Thursday by the transport ministry, free the world's largest on-demand ride providers to compete for drivers and riders in a crucial market. Shares in Car Inc., an auto-rental company that also provides car-hailing in China, rose in Hong Kong after the news, first reported by Bloomberg News, emerged. 
"It's really positive for both Uber and Didi's business in China," said Cao Yang, an analyst at Shanghai-based IResearch. "Things to look for going forward are how the rules will be implemented and more detailed regulations on pricing and ownership."
For a Gadfly column on the new regulations, click here.
Uber and Didi already cover hundreds of cities and transport millions of people daily, but their battle is set to intensify. Uber Chief Executive Officer Travis Kalanick has called China his most important market, one he personally supervises. Both are raising cash at a frenetic pace and spending billions of dollars to bankroll their expansion, a margin-eroding war that some investors are said to oppose.
The government will now encourage private auto-sharing -- including car-pooling -- in the interests of further developing what it called a sharing economy, Vice Minister Liu Xiaoming told reporters in Beijing. China may benefit in other ways: Uber and Didi argue their services help relieve traffic congestion and air pollution by taking cars off roads. The government is exploring ways to better the environment, an increasingly sore point with the populace following decades of growth founded on heavy industry.
Didi says it plays a crucial role in soaking workers pushed out of sunset industries by the nation's sweeping restructuring of the state-owned enterprise sector. This month, Didi said more than a million of its drivers hailed from coal, steel and other state-controlled sectors; another 1.2 million were originally jobless. And 179,000 were military veterans.
Didi, which is backed by Chinese internet giants Alibaba Group Holding Ltd. and Tencent Holdings Ltd. along with Apple Inc., and Uber welcomed the new policies Thursday. They legitimize an industry that has had to navigate regulatory roadblocks in many countries across the globe, including on Uber's home turf of the U.S.
On-demand car services have taken off as smartphone usage expands and riders seek simpler or quicker alternatives to taxis and public transportation. But their expansion has occasionally hit a wall as local governments struggle to formulate legislation and taxi drivers mobilize in opposition to protect their livelihoods. 
The services have also come under fire for failing to properly vet drivers or guarantee passenger safety. China's new regulations will require vehicles to install features such as security alarms and GPS. All drivers must register with local taxi regulators and cannot have criminal records.
The first draft of China's rules -- submitted for public feedback late last year -- suggested only commercially registered vehicles and qualified drivers would be allowed to provide transport through ride-hailing apps, people familiar with the plan had said. The ministry also proposed giving local governments the authority to decide on the number of licenses, and would have required local offices in individual cities. 
One of the key pillars of the new policy is pricing. On Thursday, Liu said local governments have leeway to determine cost structures and may announce local rules individually. Overall, the program reduces waste.
"Heavy subsidies were efficient in getting users when the market was young, but as the market grows in scale, subsidies are no longer healthy," says Zhang Xu, a researcher at Beijing-based consultancy Analysys.
Uber, which was last valued at nearly $68 billion, says it has access to more than $11 billion in cash and equity. Didi, which is said to be valued at close to $28 billion, says it has more than $10.5 billion at its disposal in cash and equity.
— With assistance by Lulu Chen
Before it's here, it's on the Bloomberg Terminal.
LEARN MORE