Spain King Bids to End Limbo With Latest Push on Party Talks
By
King Felipe to conclude talks with Spanish party leaders

Socialists reject any compromise to allow Rajoy to govern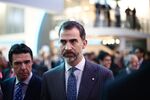 King Felipe VI is making a new attempt to end Spain's seven-month political limbo by trying to coax political leaders into coalition as acting Prime Minister Mariano Rajoy struggles to secure the support he needs to prolong his term.
Felipe will meet Rajoy at 5 p.m. Madrid time Thursday following the talks he held with Socialist leader Pedro Sanchez, Pablo Iglesias of the anti-austerity party Podemos and Albert Rivera of the pro-business force Ciudadanos earlier in the day. Failure to reach an agreement would take Spain a step closer to staging a third round of elections.
Elections in December produced the most fragmented parliament in the country's current democratic era and forced Rajoy to govern in caretaker mode. With a second vote in June also failing to produce a winner with a working majority, the acting prime minister has been appealing to political rivals to allow him to govern to nurture the country's economic recovery although he's offered little in the way of concessions.
"The result of the king's round of talks will be evidence that negotiations are still at an unripe stage," said Lluis Orriols, a political scientist at Madrid's Carlos III University. "The Socialists have the incentive to delay any commitment so that an eventual abstention can be correctly sold to public opinion."
After his meeting with the king, Rivera said Rajoy's People's Party should focus on negotiating with the Socialists because his party's 32 lawmakers are already committed to abstaining and they won't go any further because they'd prefer to see Rajoy ousted.
"It would be a government in minority that won't want to regenerate or renew itself or fight against corruption," Rivera said in a news conference. "If that's the only solution then we accept it."
Political Opposition
Iglesias of Podemos said any party that allowed Rajoy to govern would find it hard to carry out its role as his political opposition. Podemos and the Catalan and Basque nationalists parties that met the king earlier in the week have pledged to vote against Rajoy.
"Nobody doubts that Podemos will vote against the People's Party," he told reporters. "There are doubts about what the Socialists are going to do."
Sanchez has said he won't allow his 85 Socialist lawmakers to vote outright for Rajoy or abstain in a confidence vote in parliament to let him take office. Still, he urged the caretaker prime minister to accept his "responsibility" and put himself forward for a confidence vote.
"Mr Rajoy has to do his job," Sanchez said. "We can't be opposition and government at the same time."
Corruption Allegations
Rajoy had considered Aug. 2 as a possible date for holding a confidence vote in parliament. Under Spanish law, the candidate needs the support of a majority of lawmakers to win the vote, while in a second vote 48 hours later, getting more votes in favor than against would be enough to take office.
Earlier this month, Rajoy said he'll call a time-out if he can't recruit enough support to win the confidence vote. At that time, Rajoy gave other party leaders a set of policy proposals that he wants to use as the basis for eventual talks on forming a government.
Rival leaders say they won't join an alliance with the PP leader because he's failed to clear up allegations that he benefited from a secret party slush fund. The prime minister denies any wrongdoing. PP officials linked to the alleged fund are due to stand trial in October.
A deadline for new elections will be triggered once the parliament holds that confidence vote. While it's unlikely that Rajoy or any other candidate can show Felipe that they have enough support, it's unclear whether the monarch will propose a candidate to trigger the deadline. Rajoy declined the king's invitation earlier this year after the first round of elections, to avoid the public spectacle of a defeat in the chamber.
Rajoy "knows that the options are him or third elections," said Antonio Barroso, an analyst at Teneo Intelligence in London. "The other parties want to show that Rajoy is isolated -- so still it's not clear what the trigger will be that leads the parties to bring their positions closer."