Sky Says the Future's Bright Even If U.K. Falls Into Recession
By
Shares rise as operating profit advances 12 percent in year

CEO Darroch: 'In a recession, people regress to their homes'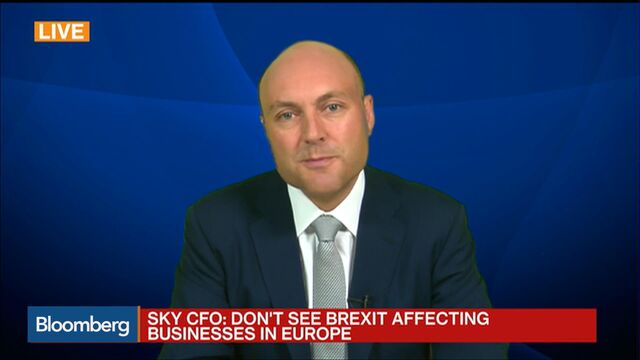 Shares of pay-TV operator Sky Plc rose as the company, coming off a strong year in which sales rose more than expected, portrayed itself as resilient in the face of a developing U.K. recession.
The stock rose as much as 7.4 percent, tracking for the biggest gain since June 2010, after Sky provided an upbeat outlook, alleviating concerns about rising competition from BT Group Plc and the effects of the U.K.'s vote to leave the European Union. If the economy slows, consumers will respond by staying home and watching more sports and on-demand movies, rather than heading out for the night, Sky said.
"In a recession, people regress to their homes," Chief Executive Officer Jeremy Darroch said on a conference call. "As you've seen in past years, we tend to do quite well in that environment."
Economists surveyed by Bloomberg expect the U.K. economy to contract in the third and fourth quarters, pushing the country into its first recession since 2009. During that slump, Sky added customers and increased its revenue.
The company mapped out plans for further growth with new products including the Now TV Combo in the U.K., a contract-free bundle of television, phone and broadband Internet services.
"Maybe it's concern about finances, maybe it's a little bit of concern about security, so people say, 'Maybe I won't take that holiday to Spain and treat myself to Sky instead,' " Darroch said in a subsequent phone interview.
Sky said revenue increased 7 percent to 12 billion pounds ($15.8 billion) in the 12 months through June 30. Analysts expected sales of 11.8 billion pounds, according to the average of estimates compiled by Bloomberg. Operating profit rose 12 percent to 1.56 billion pounds.
The company, which counts Rupert Murdoch's Twenty-First Century Fox Inc. as its largest shareholder, said it planned to squeeze out more costs linked to its takeover of sister companies in Germany and Italy two years ago. It doubled its target for cost savings to 400 million pounds by 2020, saying it will rely more steps like automating customer service systems. More expensive TV soccer-rights deals in the U.K. and Germany have put pressure on costs.
Sky shares were up 3.6 percent to 919 pence at 11:32 a.m. in London, after reaching 953 pence earlier. The stock is down 17 percent this year.
Sky has been trying to cap levels of customer churn, especially in its home market. It added 93,000 customers in the U.K. and Ireland in the fourth quarter. The company recorded its first customer growth in five years in Italy.
In the U.K., to counter competition from phone carrier BT, which has acquired rights to some English Premier League matches, Sky plans to begin offering mobile-phone service via a deal with Telefonica SA's O2 unit.
"We retain our view that pay TV is resilient in more challenging economic conditions and that Sky has strong momentum for new product development to drive revenue growth," analysts at Numis said in a note.
Before it's here, it's on the Bloomberg Terminal.
LEARN MORE