SABMiller Shareholders Said to Support New AB InBev Offer
by , , and
Allan Gray, Davidson Kempner and Elliott said to back deal

SAB board will meet on revised $102 billion bid in coming days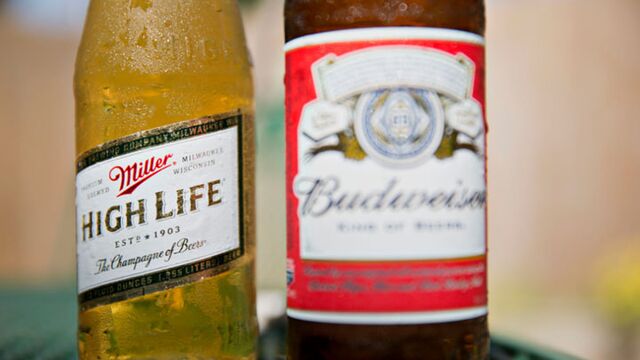 Major SABMiller Plc shareholders have signaled they favor Anheuser-Busch InBev NV's revised $102 billion takeover offer as the board prepares to meet in the coming days to vote on whether it supports the deal, according to people familiar with the process. 
Investors including Allan Gray Ltd., Davidson Kempner Capital Management and Elliott Management Corp. are among those prepared to back the offer, said the people, who asked not to be named because the details aren't public. Many shareholders view the takeover's potential collapse as a larger risk than accepting an offer that falls short of their expectations after AB InBev said its improved offer is final, the people said.
AB InBev this week raised its cash offer by one pound a share to 45 pounds and also increased the amount of cash for shareholders who choose a cash-and-stock alternative. SABMiller managers asked employees to halt integration work, knitting together the makers of brands including Budweiser, Beck's and Aguila, while they review the new offer. Chief Executive Officer Alan Clark said in an internal memo that "there should be no contact with AB InBev with immediate effect."
"It seems that AB InBev's improved and final bid has led others to recognize there was value in the price offered," Tom Russo, who manages $10 billion for Gardner Russo & Gardner, including $800 million worth of AB InBev stock, said in an interview. "I think the combination can release a significant amount of cost overlaps; there's an industrial argument and a commercial argument behind the transaction."
SABMiller needs the approval from holders of 75 percent of its shares if the board recommends the offer. Representatives for AB InBev and SAB declined to comment.
SABMiller's American depositary receipts gained as much as 3.1 percent. Shares of Molson Coors Brewing Co., which will buy SABMiller's stake in their joint venture as part of the AB InBev tie-up, climbed 5 percent to $97.75 at the close in New York.

New Offer
TCI Fund Management Ltd., Davidson Kempner and Elliott Management had asked SABMiller to reconsider AB InBev's bid in the aftermath of the U.K.'s decision to leave the European Union last month, saying it was much less attractive following the pound's plunge, people familiar with the matter said previously.
SABMiller shareholder Aberdeen Asset Management Plc has said the revised offer undervalues the company and remains unacceptable. Altria Group Inc., SAB Miller's largest shareholder, said in a conference call Wednesday that it remains "excited about the proposed transaction."
If the deal doesn't close, AB InBev would need to book a loss of about $10 billion based on the fall of the pound, according to Susquehanna International Group analyst Pablo Zuanic. If SABMiller walks away, it loses a breakup fee of $3 billion. SABMiller's shares could also fall below 40 pounds if the deal collapses, from about 43 pounds Thursday, according to analyst estimates.
Before it's here, it's on the Bloomberg Terminal.
LEARN MORE