Redstone Case Heads to October Trial as Judge Upholds Suit
by , , and
Viacom's Dauman can proceed with case over Redstone trust

Judge denies medical exam of Redstone, orders health records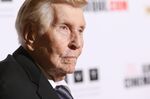 Viacom Inc. Chief Executive Officer Philippe Dauman scored an early victory with a Massachusetts judge scheduling a trial for October to determine whether billionaire Sumner Redstone wrongfully ousted Dauman from a trust that will control the company.
But in a win for Redstone as he seeks to reassert control over a $40 billion media empire that includes Viacom, Paramount Pictures and CBS Corp., Probate Judge George Phelan denied Dauman's request to force Redstone to submit to an immediate medical examination. Instead, Redstone must provide Dauman with his medical records, which the billionaire's lawyers say show he is competent.
Lawyers for Dauman and the 93-year-old Redstone now have just months to gather evidence on whether Redstone was competent to force out Dauman and another trustee, George Abrams, and whether he was manipulated by his daughter Shari. Dauman's attorney may also seek to question Redstone before the trial in Canton.
"Given that Sumner was essentially confined to his home and had neither means nor ability to independently seek information, it seems to this court critical to understand how information actually made its way to Sumner, its factual accuracy" and "the purveyors of that information," Phelan wrote Thursday in a 76-page opinion.
Restore Positions
Dauman and Abrams sued in May to restore their positions on the trust that will govern Redstone's business affairs when he dies or is deemed incapacitated. The men said Redstone, who possesses controlling stakes in Viacom and CBS through National Amusements Inc., his theater chain, was mentally incapacitated when he made the decision to remove them and is under the influence of Shari.
In the ruling, Phelan denied Redstone's request to dismiss the case or transfer questions about his competency to a court in California, where the billionaire has lived since 2002.
"Judge Phelan acknowledges the seriousness of the allegations and the need for a speedy trial," a representative for Dauman and Abrams said in a statement. "We welcome the opportunity to prove the facts at trial."
"We thank the court for protecting Sumner Redstone's privacy and dignity," Mike Lawrence, a spokesman for the mogul, said in a statement. "Mr. Redstone's capacity has repeatedly been confirmed by one of California's leading geriatric psychiatrists, including on the very day that he removed Mr. Dauman and Mr. Abrams from his trust."
Delaware Case
In a separate case, Redstone's longtime colleagues are also seeking to regain their positions on the board of Viacom. While Phelan will decide the conflict over the family trust, he said a Delaware judge would resolve the fight over Viacom. The Delaware judge is scheduled to hear arguments Friday on a request to toss a lawsuit by ousted director Fred Salerno.
Dauman, whose working relationship with Redstone spans three decades, claims the aging billionaire suffers from a neurological disorder and can't start or participate in meaningful conversation.
The media mogul has rarely been seen in recent years as he has stopped speaking at quarterly earnings calls and hasn't appeared at other public company events. He stepped down from the chairmanship in February, ceding the position to Dauman, his longtime protege. 
Les Fagen, an attorney for Dauman and Abrams, has blamed Shari Redstone for her father's absence during a hearing earlier this month. "She isolates him," Fagen told Phelan at a court hearing. "She shuts out his old colleagues, including my client."
'Puppet Master'
Lawyers for Redstone countered that the billionaire is in good health for a man his age. Elizabeth Burnett, an attorney for Shari Redstone, said during the same hearing that descriptions of her "as a puppet master are not true."
A California court already dismissed a suit by an ex-lover of Redstone's questioning his mental health. Redstone prevailed after video testimony was presented in which he was critical of the paramour, Manuela Herzer, who had sought to have him declared incompetent and be reinstated as his health-care guardian. Although the judge ultimately ruled against Herzer, a trial in the case revealed that Redstone needed full-time care and has difficulty speaking and eating. The California judge didn't make a final determination on the issue of competence.
In Thursday's decision, Phelan also concluded that the trust is governed by Massachusetts law, which Dauman's lawyers say is favorable to him.
Redstone's lawyers have argued that his decision to oust Dauman and Abrams is supported by four of the seven trustees, making Dauman's challenge moot.
A spokesman for Shari Redstone declined to comment on the judge's decision, as did National Amusements.
The Massachusetts case is Dauman v. Redstone, 16-E0020, Massachusetts Probate and Family Court, Norfolk County (Canton). The Delaware case is In re Viacom, CA 12472, Delaware Chancery Court (Wilmington).
Before it's here, it's on the Bloomberg Terminal.
LEARN MORE