Posen Says BOE Should Cut Rates to Zero to Counter Brexit Impact
by
Says negative rates may be considered if prolonged recession

Bank of England officials announce next decision on Aug. 4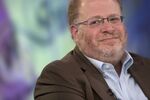 Former Bank of England official Adam Posen said policy makers should slash the U.K. benchmark to zero to mitigate any Brexit turmoil and consider negative rates if the outlook worsens.
"I would've voted last time for a rate cut of 50 basis points to zero, with a statement that if the recession proves prolonged, we'd either restart QE or go negative on interest rates," the President of the Peterson Institute for International Economics, who was a BOE rate-setter between 2009 and 2012, said in an interview. "I would advocate for the same thing again now."

With confidence dropping and uncertainty elevated, BOE officials are meeting this week to debate the economic impact of Britain's decision to quit the European Union. The nine-member committee is set to announce its next decision on Aug. 4 and investors have priced in a 100 percent probability they will cut rates from 0.5 percent.
For now, the central bank is likely to lower the benchmark rate by 25 basis points and either announce or lay the groundwork for some form of credit easing, Posen said. Minutes of the central bank's July gathering showed most officials expected easing in August and the committee discussed "various easing options and combinations thereof."
Carney's View
While Governor Mark Carney has indicated in the past that the BOE is unlikely to follow the European Central Bank and the Bank of Japan in experimenting with negative rates, other officials have said rates could, theoretically, go slightly negative.
Since the Brexit vote and the ensuing dive in sentiment, that idea seems to be gaining traction. The Royal Bank of Scotland sent a letter to business customers this week saying it could charge interest on credit balances if the BOE cuts its base rate below zero and former BOE official, Danny Blanchflower wrote in an editorial in the Guardian that negative rates may be "worth a shot" if the data worsens markedly.
While a rate cut and new asset purchases are seen as the BOE's core tools, other options may include lengthening the time taken to return inflation to target, an extension or widening of the Funding for Lending Scheme or buying corporate bonds. The latter isn't likely to be very effective at this stage, Posen said.
Limited Impact
"This is a real shock to the competitiveness of the British economy, and it's not clear that anybody's investment plans are going to be meaningfully changed by digits in the corporate bonds' interest rate," he said. "To me, it's got to be more macro procedures."
There's a risk even traditional monetary policy will only do so much to counter any downturn, he added.
"This is a U.K.-specific shock of a specific nature. This isn't a collapse of credit conditions or liquidity, and so the ability of monetary policy to offset it, I think, is more limited," Posen said. "There is a very real risk that monetary policy is not going to have much of an effect on this situation."
Before it's here, it's on the Bloomberg Terminal.
LEARN MORE