Pimco's Clarida Sees 50% Chance of Bank of Japan Disappointment
By
Clarida says coordinating fiscal, monetary stimulus difficult

Bank of Japan set to wrap up monetary policy meeting Friday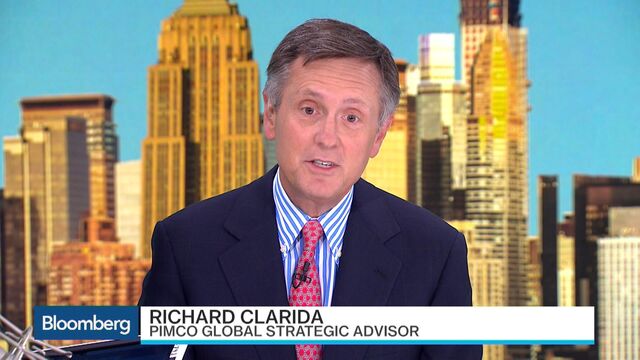 The Bank of Japan runs at least a 50 percent chance of disappointing market expectations as it prepares to vote Friday on whether to expand monetary stimulus, Pimco's Richard Clarida said, arguing it will take time to coordinate fresh monetary stimulus and fiscal measures.
"I think 30 percent chance that they don't do anything, and at least a 50 percent chance that they disappoint whatever they do," he said in a Bloomberg Television interview Thursday with Tom Keene and Francine Lacqua.
There's an issue "about potentially coordinating monetary and fiscal -- and that's complicated to do." said Clarida, global strategic adviser at Pacific Investment Management Company LLC. "My sense is that that may be a while down the road."
Expectations for fiscal and monetary stimulus have been rising as a slowdown in overseas demand and the yen's surge this year are making Japan's products less attractive overseas and hurting the earnings of exporters. As the BoJ prepares to wrap up a two-day meeting on Friday, many market watchers expect Governor Haruhiko Kuroda to unleash a new round of monetary stimulus while waiting to find out more details about Prime Minister Shinzo Abe's new 28 trillion yen ($267 billion) economic stimulus.
Expansion Prediction
Thirty-two of 41 analysts forecast that Kuroda and the BOJ board will expand their record program at the two-day meeting, according to a Bloomberg survey conducted July 15-22.
Clarida said all eyes will be on Kuroda's actions, arguing it will be difficult to meet market expectations given the anticipation going into the meeting, although he does expect "some easing" to be announced by the BoJ.
"The trouble of course always with the BoJ is that you have to move the needle to beat expectations," Clarida said. "On average you can't beat expectations, so we'll see if Kuroda can pull it off."
"I don't think there's any obvious trade to do to front-run the BoJ" with the decision a day away, Clarida said during the TV interview.