Monte Paschi Rejects Proposal From UBS, Passera, Radiocor Says
by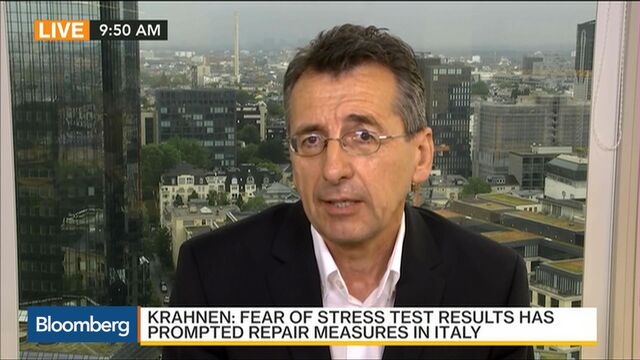 Banca Monte dei Paschi di Siena SpA's board rejected a proposal from UBS Group AG and Corrado Passera, Italy's former economic development minister, to turn around the ailing lender, newswire Radiocor reported without saying where it got the information.
Monte Paschi announced the proposal on Thursday, the eve of European stress tests that will show the extent of its capital weakness. The bank said it would review the plan at a board meeting on Friday, without disclosing any additional information.
The plan includes a capital increase of as much as 3 billion euros ($3.3 billion) and the partial conversion of subordinated bonds, daily Il Sole 24 Ore reported on Friday, without citing anyone. Italy's newswire Ansa, which earlier reported the news, said U.S. funds will have a key role in the plan to turn around Monte Paschi.
"We don't comment on client activities or specific transactions," UBS Chief Executive Officer Sergio Ermotti told Bloomberg Television's Manus Cranny in an interview on Friday. Asked whether the Swiss bank would participate in a capital increase at Monte Paschi, Ermotti said: "This is our bread-and-butter business to help clients do financial transactions."
The bank, weighed down by a pile of bad debt, is seeking European Central Bank backing to sell soured loans and cover losses with a share sale of as much as 5 billion euros, people with knowledge of the plan have said. The lender's board is scheduled to approve the company's results and review the plan.
Stress Tests
Europe's largest lenders face a second round of stress tests -- after the ones conducted in 2014 -- that are due to be published at 10 p.m. Milan time on Friday. The health check will gauge their capacity to withstand economic contraction at home, shocks in major emerging markets and declines in property markets and commodities.
Monte Paschi is expected by analysts to show the weakest capital levels and the bank's capital is "at risk," Il Sole 24 Ore reported on Sunday, citing preliminary indications of the stress tests.
While the bank is seeking to raise funds through private means, Italy is in talks with the European Commission to back the bank's recapitalization, minimizing losses for its creditors, people familiar with the discussions have said. The European Central bank recently asked the lender to offload more than 14 billion euros of gross non-performing loans over three years, 10 billion euros of which are not yet designated as impaired.
Selling those loans at a discount or writing off more bad debt will further reduce the bank's capital, hampering Chief Executive Officer Fabrizio Viola's efforts to restore the firm to financial health after accounting irregularities under previous managers prompted two taxpayer-funded bailouts.
Before it's here, it's on the Bloomberg Terminal.
LEARN MORE