New Role
Obama Passes Torch to Clinton and Prepares to Run for Legacy
For the next three months, the president will be Hillary Clinton's other running mate.
By and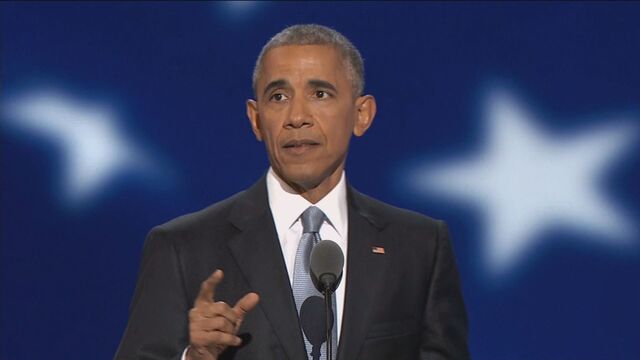 President Barack Obama passed the torch to Hillary Clinton at the Democratic National Convention on Wednesday and tested out what will be his new role for next three months: Clinton's other running mate.
The Democratic nominee's choice for vice president, Senator Tim Kaine of Virginia, who delivered his acceptance speech to the convention in Philadelphia, will be the one slogging through endless speeches and state tours by plane and bus, day in and day out, until November.

But the president's work on Clinton's behalf, and the intensity of his effort, will be at least as important.
"Tonight, I ask you to do for Hillary Clinton what you did for me," Obama told a national television audience from the stage at the Wells Fargo Center. "I ask you to carry her the same way you carried me."
As he closed his prime-time address, Clinton made a surprise entrance on stage. They threw their arms around one another in an embrace as Stevie Wonder's "Signed, Sealed and Delivered (I'm Yours)," played, the closing song at Obama campaign rallies. Then Clinton and Obama walked off stage side by side, their arms around one another's waists.
Obama and a host of high-profile Democrats and others used the full evening of speeches to intentionally drew a sharp contrast with the Republican convention a week ago. Republican nominee Donald Trump and his surrogates described a country in crisis, beset by enemies within its borders and outside, that only the New York billionaire can save. Obama rejected that portrait.
"Our power doesn't come from some self-declared savior promising that he alone can restore order as long as we do things his way," Obama said. "We don't look to be ruled."
Popularity Test
A dozen years into his quest to make the Democratic Party work for him, Obama is about to find out if he can pay it forward and in doing so cement his own legacy -- or if his popularity is non-transferable.
"There has never been a man or a woman, not me, not Bill, nobody, more qualified than Hillary Clinton," Obama said from the convention stage as delegates erupted in a chant of "Hillary! Hillary!" "She is fit and she is ready to be the next commander in chief."
Former President Bill Clinton's reaction after Obama spoke: "Loved it."
This is a role less familiar to Obama, and he won't limit his advocacy to Clinton. It's a three-month self-deployment to try to put Clinton, and Democrats in other races around the country, into Congress and state offices.
If he succeeds, he has a better chance to see the fruition of the Affordable Care Act and his other social, economic and foreign policies, and to take some credit for America's first woman president. Vice President Joe Biden, who also spoke at the convention on Wednesday, and Obama's wife, Michelle, who addressed delegates Monday night in a powerful speech, are likewise committed to campaigning for Clinton.
If they fail, Obama risks the erosion and reassessment of his legacy, and blame for not doing enough earlier to build up his party.
Obama's speech served as a bookend to Bill Clinton's address to the convention on Tuesday night. The former president sought to draw a personal portrait of his wife, while Obama focused on her role as a public servant.
"Until you've sat at that desk, you don't know what it's like to manage a global crisis, or send young people to war. But Hillary's been in the room; she's been part of those decisions,'' Obama said.
As a few other speakers did, Obama acknowledged Clinton's shortcomings as a candidate. But echoing a point made by Bill Clinton, he she's been "caricatured by the right and by some folks on the left.''
"She knows she's made mistakes, just like I have; just like we all do,'' Obama said. "That's what happens when we try.''
The message was aimed at the holdout supporters of Clinton's primary rival, Vermont Senator Bernie Sanders, as well as disaffected Republicans. "If you're serious about democracy, you can't afford to stay home just because she might not align with you on every issue,'' Obama said.
Obama "clearly intends to hand off that leadership role to Hillary," Colorado Governor John Hickenlooper, a Democrat, said at a Bloomberg breakfast in Philadelphia on Thursday.
'Homegrown Demagogues'
Casting Trump as a fake who misleads working people and draws on fear and cynicism, Obama said that "anyone who threatens our values, whether fascists or communists or jihadists or homegrown demagogues, will always fail in the end."
 The nation's strength and greatness "doesn't depend on any one person," Obama said. "And that, in the end, may be the biggest difference in this election – the meaning of our democracy."
He spoke 12 years to the day after delivering the keynote address at the 2004 Democratic National Convention, which launched him on a fast-track from obscure young Chicago politician, to the U.S. Senate, to his election as the nation's first black president.
"I was so young that first time in Boston," Obama said. "But I was filled with faith, faith in America."
In 2008, the Clintons put aside the sting of Obama's primary victory to help him win the general election. Eight years later, the Obamas will return the favor and try to put the Clintons back in the White House.
Democratic Losses
Since Obama's 2009 inauguration, Democrats have lost 69 U.S. House seats, 13 U.S. Senate seats and majority control of both chambers. A majority of states are controlled by Republicans as Democrats saw hundreds of seats in state legislatures swing to the opposition party under Obama. His focus on his own operation, over the Democratic National Committee, prompted criticism that he looked the other way while the party's infrastructure and management withered.
Obama rationed his engagement in his first term; in the 2014 midterms, Democrats kept him at arm's length, then lost control of the Senate anyway. The contested Senate seats then were in states he'd lost twice. This year, most are in states he won in both 2008 and 2012.
The White House and the Clinton campaign have yet to decide how many campaign appearances Obama will make, according to an aide familiar with his plans who spoke on condition of anonymity. But Obama will appear in multiple swing states for Clinton -- likely in separate rather than joint appearances. He'll also campaign for down-ticket Democrats around the country, and supplement personal appearances with video, audio and mail outreach.
He's also leaving open the door, depending on how the contest between Clinton and Trump looks by late September, to venturing into states still considered to be out of Democrats' reach in presidential elections but on their wish list: Georgia, Arizona, and Texas. He may also visit Democrat-friendly swaths of red states including Nebraska and Utah.
Priscilla Chavez, a delegate from New Mexico, said she believes Obama can transfer his popularity to Clinton. Perhaps more to the point, she said, a failure to try would be a path to defeat.
"Look what happened to Al Gore," she said, recalling that the former vice president kept his distance from President Bill Clinton's in the 2000 election.
—With assistance from Toluse Olorunnipa and Mark Niquette.
Before it's here, it's on the Bloomberg Terminal.
LEARN MORE