Merkel Says She's Not Having Nightmares About Trump Presidency
By
Chancellor asked about Trump at annual summer press briefing

Merkel has maintained a studied silence on Trump's prospects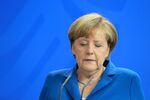 Has Angela Merkel had nightmares about Donald Trump becoming president?
That was one of the many questions during the German chancellor's 90-minute summer press conference in Berlin on Thursday. In contrast to discursive and considered responses to an array of other queries, her reply on nocturnal reveries was terse.
"I can answer that question with a clear, 'No,'" Merkel told reporters, keeping a straight face as others in the room giggled at the inquiry.
Europe's most powerful leader has maintained a disciplined silence on the prospect of the billionaire real-estate developer and Republican nominee becoming president. The closest she came was in an interview with Bild am Sonntag in March.
"I don't know him personally," Merkel told the newspaper, after offering an effusive assessment of Democratic candidate Hillary Clinton. Pressed on Trump's attacks on her refugee policy as "insane," she responded: "I see no need to respond to him on that."
Still, another reporter at the Thursday briefing tried to draw a response from her. What did she think of Trump's indication he may recognize Russian President Vladimir Putin's annexation of Crimea?
"I don't want to wade into the American debate," Merkel responded. "I'm following it with interest. I'll just wait for the vote result."
Has she changed her view on the illegality of the annexation?
"No," she said, before quickly changing the subject.
Before it's here, it's on the Bloomberg Terminal.
LEARN MORE