Lloyds to Cut 3,000 Jobs in Expense Push After Brexit Vote
by
Shares drop on capital warning, dividend disapppointment

Bank's first-half underlying profit topped analyst estimates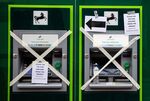 Lloyds Banking Group Plc will cut a further 3,000 jobs as it warned Britain's vote to leave the European Union would hurt its ability to boost dividend payments.
Pretax profit excluding one-time items fell to 4.16 billion pounds ($5.5 billion) in the first half from 4.27 billion pounds a year earlier, the London-based bank said in a statement Thursday. While that beat the 4.06 billion-pound average estimate of seven analysts surveyed by Bloomberg News, the shares fell as much as 4.4 percent after the bank said Brexit would reduce the amount of capital it will generate this year by 40 basis points and could hurt future earnings.
A potential economic slowdown in the wake of Britain's vote to leave the European Union a month ago is adding to the pressure that persistently low interest rates have put on Chief Executive Officer Antonio Horta-Osorio's plans to boost earnings. Slashing expenses will help counter a reduction in customer demand for loans and a squeeze on profit margins as the Bank of England considers reducing its key interest rate beyond the current record low.
"The cherry on the cake is being taken away," said Eric Moore, who helps manage 2.5 billion pounds in assets at Miton Group Plc, including Lloyds shares, referring to the bank's weakening ability to increase dividend payments. "The hope for Lloyds was it would become boring and hand over generous dividends. While that's not been abandoned altogether, expectations were for a bit more."
Lloyds's increasing dividend payments have helped its shares outperform those of Barclays Plc and Royal Bank of Scotland Plc in the past year. The 0.85 pence-per-share interim dividend announced on Thursday will bring total payments in 2016 to more than 2 billion pounds, almost double the 1.12 billion-pound dividends paid out in 2015. By contrast, Barclays said in March it will cut its dividend by more than half to 3 pence per share for 2016 and 2017. RBS does not pay a dividend as it isn't profitable.

Lloyds was down 5.2 percent at 52.86 pence at 3:53 p.m. in London trading, extending a drop of about 28 percent this year. The STOXX Europe 600 Banks Index fell by the same amount in 2016.
The move to eliminate a further 3,000 employees will predominantly effect administrative staff and include the closure of about 200 more branches, intended to save the bank an extra 400 million pounds in annual expenses by the end of 2017. The cuts come on top of plans announced in 2014 to trim about 1 billion pounds of annual expenses by shedding 9,000 staff and closing 200 branches.
While the lender has already achieved 600 million pounds in annual savings by cutting about 7,300 employees under that plan so far, the rising use of digital banking services by customers and low interest rates from the Bank of England have pushed the bank to go further.
"Absolutely these are tough decisions that we have to take," Horta-Osorio said on a call with reporters. While low interest rates prior to the EU referendum were "already a factor that drove our previous plan, now, of course, interest rates will continue to be lower for longer."
Lloyds had 74,117 employees at the end of June, down almost 1,200 from the end of last year. The bank will also spend 300 million pounds to cut about 30 percent of its non-branch real estate portfolio to help save about 100 million pounds in one-time savings and 100 million pounds of annual expenses.
Dividend, Capital
While the 0.85 pence dividend was up from 0.75 pence a year earlier, the payout disappointed analysts and investors who expected more. The bank also said it would generate about 160 basis points of common equity Tier 1 capital this year, down from its previous guidance of 200 basis points, partly because of the drop in the pound after the U.K. referendum vote. The key measure of financial strength stood at 13 percent at the end of June after accounting for the interim dividend.
As sterling plummeted against the dollar and the euro in the immediate aftermath of the Brexit vote, the funds Lloyds must set aside in pounds to meet regulatory capital rules for its lending in those currencies increased. The bank said economic uncertainty sparked by the vote to leave also means "capital generation may be somewhat lower in future years" than previously anticipated.
Lloyds may only pay a 3 pence dividend in the future, half of what it would be if it generated 200 basis points of capital a year and paid out anything above its 13 percent ratio to shareholders, as the bank had anticipated, Citigroup Inc. analysts including Andrew Coombs wrote in a note to clients.
The net interest margin, the difference between income from lending and the cost of funding, rose to 2.74 percent from 2.62 percent a year earlier. While net interest income climbed 1 percent to 5.8 billion pounds, earnings on about 70 billion pounds of the bank's standard variable-rate mortgages -- out of a total loan book of about 300 billion pounds -- will automatically fall if the BOE cuts its key interest rate.
First-half net income more than doubled to 1.86 billion pounds, as the company had lower provisions for conduct issues. The bank set aside 345 million pounds in the second quarter for such matters and said the Financial Conduct Authority informed it in May that the regulator was probing how delinquent mortgages were handled.
Uncertainty over both the outcome of negotiations with the EU and the plans of the new finance minister, Philip Hammond, has cast doubts over the government's earlier plans to sell its remaining 9.1 percent stake in Lloyds by the end of March. The shares remain below the 73.6 pence average price the U.K. paid in its 20.3 billion-pound bailout of the bank at the height of the financial crisis.
Before it's here, it's on the Bloomberg Terminal.
LEARN MORE