Japan's Consumer Prices Decline Before BOJ's Policy Decision
by and
Industrial output beats estimates while retail sales rise

Household spending slumped again as consumers feel the pinch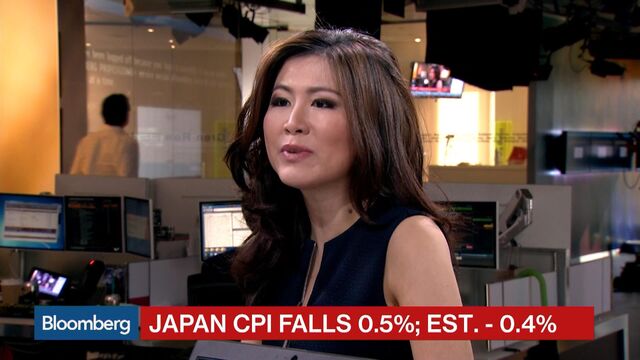 Japan's consumer prices dropped for a fourth consecutive month, showing how far prices are from the Bank of Japan's 2 percent inflation target. In a slew of key economic indicators for June released just hours before the BOJ announces any changes in monetary policy, household spending slumped while industrial production rose more than economists forecast. This rounds out most of the key data for the month.
Key Points
Consumer prices excluding fresh food -- the BOJ's benchmark inflation gauge -- fell 0.5 percent in June from a year earlier, after declining 0.4 percent in May (estimate -0.4 percent).
Household spending slid 2.2 percent, year-over-year (estimate -0.4 percent). It has dropped in 10 of the past 12 months.
Output rose 1.9 percent (estimate 0.5 percent) in June from May.
The trade ministry revised the assessment of industrial production upward for the first time since September 2015.
Big Picture
The closely watched consumer price gauge increases pressure on central bank Governor Haruhiko Kuroda and policy board members to consider further expansion of stimulus to meet their price target. Households are reluctant to increase spending given little prospect of wage hikes while the yen's gains this year are putting pressure on exports, crimping corporate profits and discouraging investment. Industrial production was a bright spot with 13 industries of 15 measured showing gains. The chemical industry, excluding drugs, was the biggest contributor.

Economist Takeaways
"Core consumer prices will likely stay in minus territory for the time being, and even with stripping out energy costs, prices are slowing," Atsushi Takeda, an economist at Itochu Corp. in Tokyo, said before the reports were released. "The BOJ has no choice but to ease further," he said, adding that otherwise "investors will think it has given up on achieving the price target."
"Today's reports showed mixed results, but overall there is no change in the picture that Japan's economy remains at a standstill," said Yoshiki Shinke, an economist at Dai-ichi Life Research Institute in Tokyo. "The CPI report signaled the price trend is clearly weakening and prices are far from the BOJ's projections."
"It's difficult for the BOJ to stand pat because prices are falling and political pressure is mounting upon it," said Hiroaki Muto, chief economist at Tokai Tokyo Research Center. "This is not a time when the BOJ can make a decision purely looking at economic reports."
The Details
Overall CPI fell 0.4 percent in June from a year earlier.
Core core CPI, an index that strips out energy and food, rose 0.4 percent, slowing from 0.6 percent the previous month.
The Bank of Japan releases an alternative index that excludes fresh food and energy later Friday.
The unemployment rate was 3.1 percent in June (estimate 3.2 percent) while the job-to-applicant ratio increased slightly to 1.37.
Production is forecast to rise 2.4 percent in July, and increase 2.3 percent in August.
Retail sales rose 0.2 percent from a month earlier (estimate 0.3 percent). Versus a year earlier they dropped 1.4 percent in June.
Before it's here, it's on the Bloomberg Terminal.
LEARN MORE