Bill Gross Is Running His $1.5 Billion Mutual Fund by Himself — Again
By and
Kumar Palghat will co-run Janus Short Duration Income Fund

Gross's global fund is up 3.7% in 2016, beating 65% of peers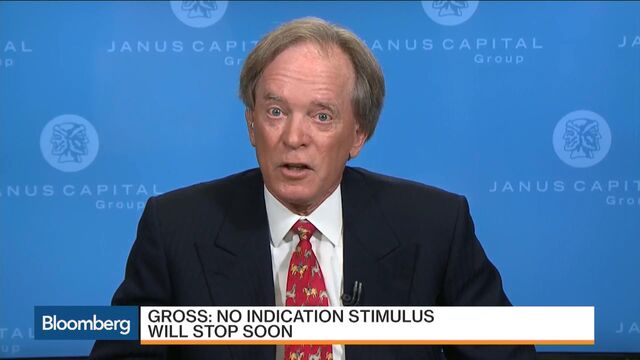 Bill Gross is running his $1.5 billion Janus Global Unconstrained Bond Fund by himself -- again.
The legendary money manager is losing his No. 2, Kumar Palghat, who joined Gross as co-manager last July. Palghat will become co-manager of a new exchange-traded fund, Janus Short Duration Income ETF, while continuing to oversee other mutual funds, according to a statement Thursday.
Gross, 72, is returning as the sole chief, a role he held when he joined Janus Capital Group in 2014 and took over the Unconstrained Fund, which has outperformed 65 percent of its Bloomberg peers this year. The change allows Janus to continue its expansion into ETFs and tap the expertise of Palghat, a seasoned portfolio manager who spent five years at Pacific Investment Management Co. before starting his own investment firm in 2006.
"So far the only two things that have really been successful in the active ETF category are rock-star managers and short-duration bond funds," said Eric Balchunas, an ETF analyst with Bloomberg Intelligence. "Janus is the only firm with both options available, but they are choosing to launch the latter. It is interesting they chose this before a Bill Gross ETF."
Janus hasn't ruled out an ETF using Gross's strategy, according to spokeswoman Erin Passan. "We have several ETF products in development," she said.
Single Manager
Having a single manager at the Unconstrained Fund may not benefit investors, according to Todd Rosenbluth, director of mutual fund and ETF research for S&P Global Market Intelligence.
"Janus and other asset managers can benefit by spreading the responsibilities around to more than one manager and shareholders can benefit from reduced key personnel risk and balance of investment ideas," he said in an e-mail.
The Unconstrained Fund returned 3.7 percent this year through Wednesday. Since Gross took over management in October 2014, it has returned 2.8 percent. It focuses on short-duration fixed-income instruments, while also investing in derivatives to profit from market volatility, liquidity and currency exposure. Its largest holdings as of June 30 included SABMiller Plc, Ally Financial Inc. and Mexican inflation-linked notes, according to the Janus website.
ETF Boom
Investors added about $300 million to Janus's exchange-traded products in the quarter ending June 30, equivalent to all of the firm's net inflows for the period. About $3.8 billion of Janus's $194.7 billion was in exchange-traded products, which includes ETFs for retail clients and instruments traded by institutional investors.
The short-duration ETF fund aims to deliver returns 2 percent to 3 percent above the three-month Libor, or London Interbank Offered Rate. It will compete with two of the largest actively managed ETFs, the $4.7 billion Pimco Enhanced Short Maturity Active ETF, and the $2 billion iShares Short Maturity Bond ETF.
Palghat will run the fund with Nick Maroutsos, who joined him at Janus when the company acquired a majority interest in their Sydney-based firm, Kapstream Capital Pty Ltd.
This new ETF will complement the Kapstream Absolute Return Income strategy, according to Janus. The strategy is "performing very well, and we're starting to see significant market interest around the world," Janus Chief Executive Officer Dick Weil said on an earnings call Tuesday.
Gross jumped to Janus in 2014 after an acrimonious departure from Pimco, which he co-founded in 1971. About half of the Unconstrained Fund's money is from Gross's personal fortune, estimated at about $2 billion.
Before it's here, it's on the Bloomberg Terminal.
LEARN MORE