Hitachi Gadget Promises More Than Better Heart Treatments
By and
R&D spending poised to hit 5-year high as investor returns lag

Hitachi stem-cell incubator set to speed regenerative medicine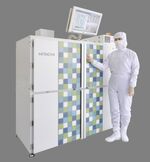 With its network of tubes and petri dishes, Hitachi Ltd.'s latest gizmo may look more like a mini laboratory inside a refrigerator than the growth engine the Japanese technology company envisages.
Its cabinet-sized stem cell incubator, unveiled in a research center last month, promises to utilize a technique pioneered by Nobel Prize winner Shinya Yamanaka to speed new eye and heart treatments -- as well as catapult Tokyo-based Hitachi into the regenerative medicine business. It's one of the latest innovations for the company that has as many patents as General Electric Co. and Siemens AG combined, and which plans to beef up research to spur investor returns that have lagged overseas rivals the past year.
Hitachi plans to boost expenditure on research and development by about 5 percent to 350 billion yen ($3.3 billion) in the year ending March 31, pushing R&D spending as a proportion of revenue to a five-year high. The company added about 100 research jobs last financial year to support expansions in areas spanning robotics and artificial intelligence to automated driving technology and railways.
"It's one of the most innovative companies in the world," said Erin-Michael Gill, founder and chief executive officer of Genaesis LLC and an intellectual property adviser to the White House. Innovation is "critical to their business and it's critical to their margins."

While Hitachi predicts that net income will jump 16 percent to 200 billion yen in the year ending March 31, its shares have plunged 34 percent to 476.5 yen over the past year in Tokyo trading -- almost twice the decline of the benchmark Nikkei 225 Stock Average. In comparison, GE's shares have gained about 23 percent and Siemens' are up about 9 percent.
Revenue will probably decline 10 percent to 9 trillion yen this fiscal year, Hitachi reiterated Friday, as the company reduces its stakes in subsidiaries. Profit in the quarter through June rose almost 3 percent to 56.5 billion yen, it reported on Friday.
'Stronger Focus'
Executives at Hitachi, whose products include bullet trains, elevators and power plant equipment, said in 2007 that the company had been inferior to its competitors on patent registration before giving technology a "stronger focus" that sped up its release of new products. It's now granted more than one patent an hour on average, according to company data.
About 4 percent of annual revenue will be invested in Hitachi Group R&D, Chief Technology Officer Norihiro Suzuki said on June 28 in a presentation of the company's research strategy. Siemens spent about 3.2 percent of sales on R&D in the fiscal year ended September, while GE spent 4.6 percent last year, according to data compiled by Bloomberg.
Global Competition
Hitachi's R&D spending will probably continue to increase to help the company keep ahead of the global competition, Toyoaki Nakamura, then chief financial officer of Hitachi, said on a conference call in October.
Claiming rights to innovations doesn't always translate into better returns. "It's difficult to measure the impact," said Yukihiko Shimada, a Tokyo-based analyst at SMBC Nikko Securities Inc. in a telephone interview.
"Hitachi needs to focus," said Shimada, who has an outperform rating on the stock. "It should make a decision on where to invest and concentrate its efforts."
Hitachi doesn't publish how much income it gets from its patents, a company spokeswoman said.
Protecting Millions
"A patent that costs a few thousand dollars protects a million dollars in revenue," said Genaesis' Gill. "Big companies don't go through the effort of publishing patents if they're not worth something."
Companies in the U.S., for example, earned a record $130 billion in intellectual property fees from overseas in 2014, double the amount a decade earlier, according to figures from the country's Bureau of Economic Analysis.
International Business Machines Corp. received the most U.S. patents in 2015 for the 23rd consecutive year, with 7,355 patents awarded last year. It ranks 16th in the world for patents held, according to Innography Inc., which provides patent search and intellectual property analytics software. Hitachi holds the most patents globally after Samsung Electronics Co. and Panasonic Corp.  
"Patents mitigate risks for companies launching new products," said Tyron Stading, founder and president of Austin, Texas-based Innography. "As part of the patenting process, companies have to prove new patents are novel over existing patents. This process helps identify existing competitors and techniques, thereby understanding and quantifying the risk landscape on global product launches."
No photographs were allowed at the unveiling of Hitachi's automated cell-culturing technology in a research facility in suburban Tokyo last month.
Incubating Cells
The machine incubates the cells in a temperature and humidity-controlled cabinet that relies on a set of tubes to nourish cells and remove waste products. Treatments using the new technology could slash manufacturing and treatment costs to 1 million yen from 100 million yen, according to Hitachi. It predicts the market for regenerative medicine will reach 17 trillion yen by 2030.
Research for the equipment was also supported by Tokyo Women's Medical University and the Creation of Innovation Centers for Advanced Interdisciplinary Research Areas Program, part of the Ministry of Education, Culture, Sports, Science and Technology.
"The biggest challenge to be overcome if the wider adoption of regenerative medicine is to enable all patients to receive treatment with confidence is the establishment of technology for the large-scale production of high-quality cells suitable for medical purposes at low cost," Hitachi said in a report earlier this year.
Novartis AG, Roche Holding AG and Johnson & Johnson are among companies conducting experiments using stem cell technology developed by Yamanaka, the Kyoto University researcher who shared a 2012 Nobel Prize for the discovery that mature cells can be reprogrammed to develop into all types of cells in the body. The finding resulted in a way to sidestep ethical concerns that dogged the use of embryonic stem cells in regenerative medicine.