business
India's $3.4 Billion Bank Boost Fails to Soothe Credit Investors
By and
Capital injection for 13 state-owned banks including SBI

CDS costs for SBI, IDBI and BOI have all climbed this week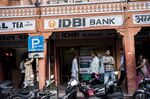 India's plan to inject more capital into state-owned banks is doing little to alleviate investor concern that lenders' credit profiles are deteriorating.
The cost of insuring bonds issued by State Bank of India, IDBI Bank Ltd. and Bank of India have risen this week, credit default swap data compiled by Bloomberg show. The increases come even after the finance ministry said earlier this month that 13 public sector lenders would receive a 229.2 billion rupee ($3.4 billion) capital boost from the government.
Fitch Ratings expects banks to face a $25 billion shortfall in equity capital by 2019, when tougher regulatory standards come into force, and the Reserve Bank of India wants lenders to clean up the bad debts on their books by March 2017 as they work toward the new Basel III requirements. A weaker credit outlook risks putting upward pressure on lenders' funding costs, while for subordinated bondholders a decline in capital adequacy ratios may trigger payment delays on some existing notes, according to Fitch.

"The allocated amount is far lower than what is required to comprehensively recapitalize the sector," said Nicholas Yap, a Hong Kong-based credit strategist at MUFG Securities Asia. "The banks will likely continue to struggle with inadequate capitalization."
Credit default swaps for Bank of India have climbed 5.5 basis points since the end of last week to 226.2 basis points, while those protecting State Bank of India are up 1.9 over the same period to 173.2, according to CMA data compiled by Bloomberg as of Thursday. Contracts on IDBI rose 3.6 basis points to 257.3, the data show.
"It's difficult to say whether the capital infusion will lead to upgrades in the credit ratings of these lenders," said Rajesh Mokashi, Mumbai-based deputy managing director at CARE Ratings Ltd. "If this capital hadn't come, it would have been a sustainability issue for banks."
About $9.3 billion of Basel III-compliant bonds have been issued since April 2013, when banks in India started implementing the new rules, and about 40 percent of that issuance has taken place just in the past year, according to data compiled by Bloomberg. Fitch Ratings estimates India's banks need a total of $90 billion in additional capital to meet the Basel III target by 2019, with most of that being for public-sector lenders.
More Capital
Government lenders, which account for more than 70 percent of bank assets in the country, are struggling with surging bad loans and reduced capital buffers. In the year to March 31, they extended new loans at a slower pace than their privately-owned rivals for the first time ever.
Stressed assets -- or restructured loans plus soured debt -- stood at 14.5 percent of government banks' outstanding credit as of March, compared with 4.5 percent for privately-owned banks, central bank data show.
"For long-term growth, government has to allocate more capital than is earmarked as of now," said Saswata Guha, a Mumbai-based director at Fitch. "Significant capital infusions are required for a positive re-rating."
Before it's here, it's on the Bloomberg Terminal.
LEARN MORE