business
Greenspan 'Nervous' Bond Prices Too High as Treasuries Sell Off
By and
'What I'm concerned about mostly is stagflation,' he says

U.S. wraps up week's $103 billion of coupon auctions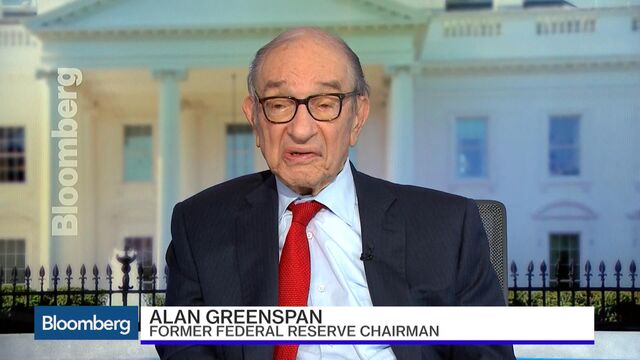 Alan Greenspan is worried bond prices have risen too high.
"We get very nervous when the stock price index goes to high p/e, we ought to be somewhat nervous when the bond rate does the same," the former Federal Reserve chairman said in an interview Thursday with Bloomberg Television.
To listen to Greenspan's remarks on rates, click here.
Some bond-market metrics shows prices are getting frothy, after yields on 10-year Treasuries sank to a record 1.32 percent this month.
The maturity now yields less than stocks pay in dividends. And a measure known as the term premium, which has historically been positive, fell to an unprecedented minus 0.75 percentage point this month for 10-year Treasuries. The metric, which the Federal Reserve uses in guiding policy, reflects the extra compensation investors demand to hold longer-maturity debt instead of successive short-term securities.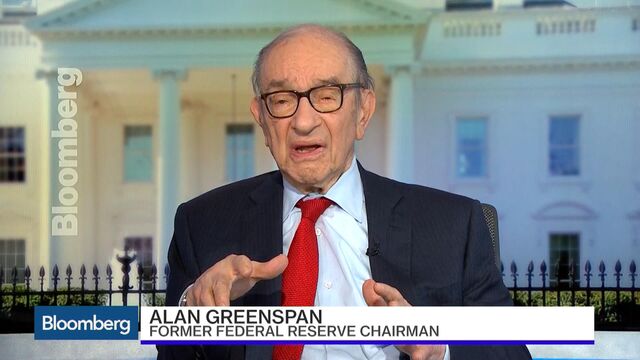 Treasuries have rallied about 5 percent in 2016 as the Fed held off on raising interest rates after liftoff from near zero in December, while central banks in Japan and Europe maintained unprecedented stimulus. Policy makers on Wednesday left the federal funds rate at 0.25 percent to 0.5 percent while saying near-term risks to the economic outlook were dissipating, keeping the option to raise rates in September open.
Benchmark U.S. 10-year note yields were little changed at 1.5 percent as of 5 p.m. in New York, according to Bloomberg Bond Trader data.
Corporate supply, including offerings from Apple Inc., limited investors' appetite for Treasuries after a two-day rally.
Pressure On
"We had a big rally after the Fed, even though the Fed sounded hawkish," said Aaron Kohli, a fixed-income strategist in New York at BMO Capital Markets, one of the 23 primary dealers that trade with Fed. "More importantly, there's expectations of corporate supply today, which is keeping pressure on yields."
This year's advance is reminiscent of the bond-market conundrum that Greenspan identified in 2004, when long-term Treasury yields kept falling even as he raised borrowing costs, hampering attempts to tighten credit.
Treasuries fluctuated Thursday as an auction of seven-year notes, the final leg of the week's $103 billion of coupon-bearing government-debt sales, drew demand in line with recent offerings of the maturity. Two previous note sales this week, of two- and five-year debt, saw weak interest in the lead-up to the Fed decision.
"Twos and fives went poorly because of the Fed announcement and because the economy had improved and they expected the Fed to be more hawkish," said Charles Comiskey, head of Treasuries trading in New York at Bank of Nova Scotia, another primary dealer. "Nothing matters other than the fact that people need to buy Treasuries."
Greenspan also said the U.S. may be heading toward stagflation -- a slow-growth economy coupled with high inflation. There's a significant amount of uncertainty and "general sluggishness" in the economy, which is tied to low productivity, he said.
"What I'm concerned about mostly is stagflation, meaning I think we're seeing the very early signs of inflation beginning finally to pick up as the issue of deflation fades," Greenspan, 90, said. "We're just in a stagnation state."
— With assistance by Rich Miller, and Susanne Barton
Before it's here, it's on the Bloomberg Terminal.
LEARN MORE