Germany's Labor Market Should Study the Refugee Wave of an Earlier Age
German labor market can learn lessons from the arrival of eastern-European expellees after WWII
by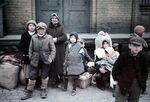 It's pretty early to be able to say how the arrival of more than 1 million migrants and asylum-seekers from Syria and other war-torn states over the past eighteen months will affect Germany. It helps however that this isn't the first time such a thing has happened.

After World War II, some 8 million refugees from German-speaking regions in eastern Europe arrived in what became West Germany, forming part of one of the largest migration movements in human history. New findings by Sebastian Braun at the Kiel Institute for the World Economy and Henning Weber, a research economist at the Bundesbank, show that the main element that helped to integrate those people into the workforce was time.



After 1945, unemployment in the regions of Germany most heavily settled soared to two and a half times the level in the rest of West Germany, partly as a result of the new workers displacing existing labor, the researchers' report shows. Hoping that they'd one day be able to return to their homes — in areas of eastern Europe like Silesia populated by Germans since the Middle Ages — many refugees stayed in the parts of West Germany closest to their origin, such as Bavaria, Lower Saxony and Schleswig-Holstein.

Over time however, Germany's "Wirtschaftswunder" economy boomed and unemployment in those regions fell from around 17 percent in 1950 to below 2 percent by the early 1960s. Labor participation rose strongly over the period, reaching more than 70 percent.

QuickTake Europe's Refugee Crisis

Caveats? Germany's economy was then, literally, in ruins, following the destruction of the war, meaning that reconstruction provided obvious employment opportunities. That's hardly the case now, and in fact Germany — Europe's largest economy — is close to running at full capacity.

In addition, the post-war immigrants had arguably far fewer linguistic and cultural obstacles to clear. Yet numerically at least, the scale of the task now is much smaller than that in the 1950s. 

According to Braun and Weber, further lessons from the past are as follows:  The more migrants arrive at once, the higher the costs of integrating them into the labor market are. And regional distribution matters. If workers can — or must — move fairly freely in search of work, the impact on the labor market will be relatively muted.

In post-war Germany, finding a job in a different region wasn't easy; today information about available work is much easier to come by. 


That doesn't mean that the 21st-century migrants to Europe will fold seamlessly into the labor force, Weber explained by phone. The impact of 2015's arrivals have hardly begun to be felt in the labor market as it takes time before they are allowed to work, and indeed unemployment is still at record lows. From April 2015 to March 2016, just 21,400 refugees found work in Germany, according to Labor Agency statistics.

"The adjustment back then took a very long time," he said. "My impression is that it won't go much faster today."
Before it's here, it's on the Bloomberg Terminal.
LEARN MORE