Photographer: Joerg Koch/Getty Images
Germany Ramps Up Internship Programs for Refugees
New arrivals are eager to work, and companies are slowly expanding training opportunities.
By , , and
Three years ago, Adham fled Syria when his village was bombed and many friends and relatives were killed. After passing through Lebanon and Turkey, he landed in Germany, where he's starting a three-year apprenticeship at Daimler's 110-year-old plant just outside Stuttgart. "I lost my entire life in Syria, and now I have a new start," says the 19-year-old, who asked that his full name not be used for fear of reprisals against family members still in his homeland. "I like my work a lot," he adds in accented but smooth German, "and I want to learn more."
Adham was one of 40 refugees in a four-month pilot project that began last November, taking German classes and working in a Mercedes factory for part of the day. While Daimler hired only Adham and one other worker, it says almost all the rest got jobs at suppliers or local companies. This summer, Daimler expanded the program to 300 people.
The automaker is among scores of companies in Germany with programs to train some of the 1 million-plus refugees who've arrived since 2014. About 100 companies have joined Wir Zusammen, or We Together, an initiative aimed at integrating new arrivals. The group says it's found internships for 1,800 refugees and apprenticeships for an additional 300. Chemical maker Evonik Industries took a trainee prep course designed for local youths who don't fare well in school and opened it to asylum seekers. Steelmaker Klöckner is financing computer-coding classes for refugees. Consulting firm PwC is teaching the basics of German job-seeking.
Even the most optimistic projections show that only a small portion of refugees will have permanent employment anytime soon. And a spate of violent attacks by recent arrivals, including a July 24 bombing outside a music festival by a Syrian said to be upset he was denied asylum, could weaken public support for aid to migrants. A survey by the daily Frankfurter Allgemeine Zeitung found that as of June, the 30 companies in Germany's benchmark DAX index employed 54 refugees in full-time jobs. While they had also created 3,000 internships and apprenticeships for them, only about 500 of those positions had been filled. The report prompted Economy Minister Sigmar Gabriel to urge German industry to do more for the new arrivals. "We need you and are counting on you," the minister wrote in a letter to executives at the DAX companies.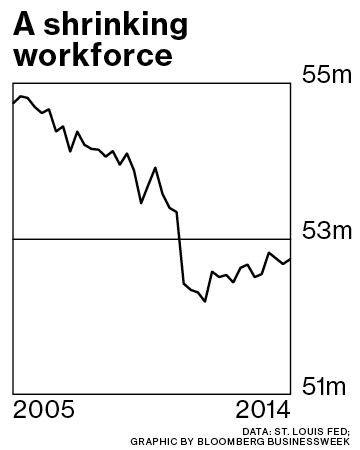 With unemployment at 4.2 percent and its working-age population declining, Germany needs to replace baby boomers who are retiring en masse. While many executives say refugees can help fill the gap, "I don't think companies are doing it for hard-core business reasons," says Andreas Scheuerle, an economist at DekaBank. "It's more about fulfilling their social obligations and showing the government goodwill."
For migrants seeking to put down roots in Germany, every little bit helps. According to the country's labor agency, the ranks of unemployed from troubled countries in the Middle East, Africa, and Asia surged by almost half over the past year, to 223,000 in March, largely because of arrivals from Syria. The Federal Ministry of Finance has earmarked €1.5 billion ($1.7 billion) in 2017 to train migrants and create up to 100,000 unskilled public-sector jobs paying a nominal wage of less than €1 an hour while refugees await asylum papers. Still, integrating them "will be a challenge because there often are language issues and a lack of qualifications," says Holger Schäfer, senior economist at the Cologne Institute for Economic Research. Refugees usually must wait about eight months before they can work because of employment restrictions and the time it takes to process asylum applications, he says.
PwC created its six-week program to help reduce isolation and tedium during those months, with language classes and courses explaining the German labor market and the range of available jobs. At the end, participants get a certificate saying they're qualified for entry-level employment. "We don't have jobs in Germany that you can start without any formal qualifications," says Thorsten Schramm, the PwC executive in charge of the project. Refugees "are very motivated and want to work right away, but they can't. It can be very disappointing." The first group of about 15 students was co-sponsored by Berlin utility Gasag, and PwC says it's seeking more corporate partners for the initiative.
The expanded program at Daimler is among the most ambitious efforts. At a massive plant in Sindelfingen outside Stuttgart, a new group is well into its 14-week engagement. One of them, a 26-year-old Syrian also named Adham, wears soft gloves to avoid scratching the luxurious sedans he checks as they roll off the assembly line before affixing the hood ornament. The former law student says his parents owned an auto dealership in his hometown of Homs, which he left in 2014. Now, as he anticipates the end of his internship, he says he's hoping to land a full-time job at Daimler. "Life's good here," Adham says as vehicles creep along the conveyor belt behind him. "I've always been fascinated by cars."
The bottom line: More than 1,800 refugees have found internships with German companies, but hundreds of thousands still need jobs.
Before it's here, it's on the Bloomberg Terminal.
LEARN MORE