Ford Profit Miss Imperils 2016 Target as U.S. Demand Stalls
By
Sputtering home market pressures margins in key region

Investors remain wary of shares on belief earnings are peaking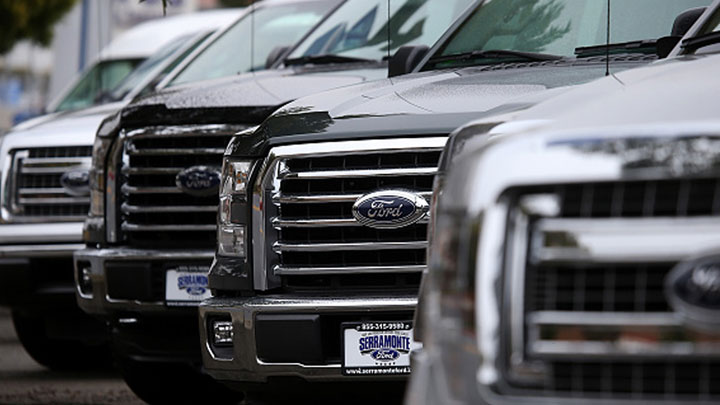 Ford Motor Co.'s second-quarter profit fell short of analysts' estimates, driving shares down the most in 11 months, after the company warned that a stalling U.S. auto market threatens its full-year earnings target.
"We're committed to meeting our guidance, but it is at risk," Chief Financial Officer Bob Shanks told reporters Thursday. The company now says it's unlikely that U.S. vehicle sales will break last year's record, and Shanks predicted further contraction in 2017. "We don't see growth, at least in the near term."

After a record streak of six straight years of annual U.S. auto-sales growth, Ford is joining analysts who are skeptical that the record set in 2015 will be topped this year. Consumer demand has gone slack, forcing automakers to dial up deals to lure buyers to showrooms. For the first six months, industrywide light-vehicle sales rose just 1.5 percent while incentives jumped 13 percent, according to researcher Autodata Corp.
North American pretax profit slid 4.8 percent to $2.7 billion as rising incentives and slowing sales took a toll on the bottom line, despite low fuel prices spurring sales of profitable sport utility vehicles and F-Series pickups. Operating margin in the region, which fell in the quarter, will come under further pressure in the second half as Ford trims production and spends to introduce redesigned Super Duty pickups, the automaker said.

Earnings excluding one-time costs were 52 cents a share, the company said in a statement. The average of 17 estimates was 60 cents. Net income fell to $1.97 billion, or 49 cents a share, compared with $2.16 billion, or 54 cents, a year earlier.
Ford's profit warning reflects broader industry softening as well as the company's bet on fuel efficiency, Adam Jonas, an analyst at Morgan Stanley, wrote in a note entitled "Ford's Profits Warning an Industry Watershed?"
'Leveling out'
"The U.S. auto market is probably leveling out," said David Whiston, an analyst for Morningstar Inc. in Chicago, who rates Ford the equivalent of a buy. "The risk is when does all that all come crashing down. I'm not worried about it being imminent."
For a story on U.S. auto sales last month, click here.
The U.S. auto market slowed sooner than Ford anticipated, Shanks said. The automaker now sees U.S. auto sales of 17.4 million to 17.9 million vehicles, down from an earlier forecast of about 18 million. Excluding medium and heavy trucks, the new projection translates to a light-vehicle market of 17.1 million to 17.6 million, compared with last year's record 17.5 million.
"We do think the U.S. is coming down from what we expected," Shanks said. "We saw higher U.S. incentives -- that was for the industry and for us. The industry increased and we increased in line with the industry."
Britain's decision to leave the European Union will cost Ford about $200 million this year, rising to $400 million to $500 million in 2017, Shanks said. That puts Ford's nascent recovery in Europe at risk. General Motors Co. said last week that so-called Brexit could cost it $400 million in the second half. The U.K.'s decision affects both demand and currency costs, Chief Executive Officer Mark Fields said on Bloomberg Television.
"We're going to look at what the world throws at us and we're going to act decisively on it," Fields told analysts on a conference call today. "We're going to have to see how Brexit plays out, but it will just provide more motivation for the team in terms of keeping us competitive."
Shares Fall
Ford fell 8.9 percent to $12.61 at 2:43 p.m. New York time. The stock dropped as much as 10 percent, the most since Aug. 24 of last year. The shares had slipped 1.8 percent this year through yesterday.
Asked by an analyst if Ford pays attention to the stock price, Fields was philosophical.
"It's kind of like when you're having a bad golf game, you just kind of play through it," Fields said. "In our case, we're going to stay really focused on just delivering the business. And of course, the stock price is very important to us."
Some investors remain wary of the stock on the belief that earnings are peaking and will decline along with the U.S. auto market.
"Profits aren't likely to move up from here and are likely facing downside risk," Brian Johnson, a Barclays analyst who rates Ford the equivalent of neutral, wrote in a June 10 note. "A downturn will be like a roller coaster and investors should brace themselves."
Automotive revenue rose 5.1 percent to $36.9 billion. The average analyst estimate was $36.3 billion.
North American pretax income was $2.7 billion, down from $2.84 billion a year earlier. Ford's U.S. sales climbed 4.6 percent in the first six months to 1.35 million cars and trucks, its best first half in 10 years.
Europe pretax profit was $467 million, up from $161 million. Ford's European sales rose 7.5 percent in the first half to 718,700 vehicles, the biggest gain since 2010.
In the Asia-Pacific region, pretax loss was $8 million, down from a $194 million profit. Ford's first-half sales in China grew 6 percent to 577,097 vehicles.
About $100 million of expenses was recorded for recalls of Takata Corp. air bags. Unlike some other automakers, Ford doesn't treat recalls as special items, Shanks said.
Ford's shares remain undervalued, especially given its product lineup heavy in SUVs and trucks popular with Americans now, Whiston said.
Still, the Dearborn, Michigan-based automaker faces twin challenges in the second half that may weigh on the stock, he said.
"They'll have launch costs for Super Duty in the second half that will hurt North America," Whiston said. "And right when North America gets the launch costs, Brexit will start hitting. They can't win."
Ford cut costs by $1.6 billion in the first half, which allowed it to achieve record adjusted pretax profits of $6.83 billion during the period. It said it reduced capital spending to $7 billion this year, from a planned $7.7 billion expenditure, including reducing the cost to retool two factories to produce the aluminum-bodied F-150 pickup.
"We closed out all the spending for the F-150 and we got good news," Shanks said in an interview. "We ultimately did not have to spend as much as we expected."
The automaker will seek similar cost cuts in the second half to try to meet its forecast of matching or beating last year's pretax profit of $10.8 billion.
"We are working, as we did in the first half, to deliver profit improvement actions," Shanks said. "We do have risks. We've seen those risks. We've addressed those risks in the first half. We need to continue to do that in the second half and deliver the guidance that we're committed to do."
Before it's here, it's on the Bloomberg Terminal.
LEARN MORE