Europe Stocks' Best Month Since October Marred by Fund Outflows
by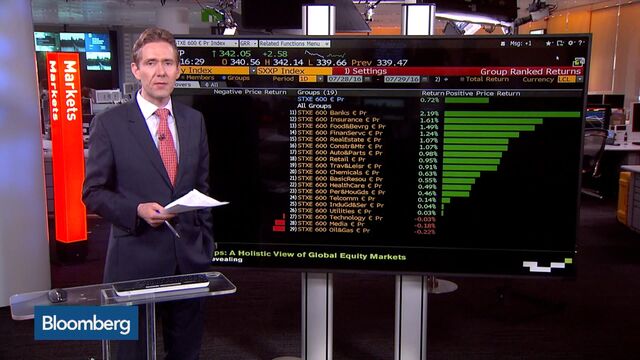 European stocks are set to post their best monthly rally since October. But underneath the apparent bullishness, lies a fair amount skepticism, with investors pulling out of the region's funds.
It's been a broad-based rebound for most Stoxx Europe 600 Index members, with the big exception being energy producers, which suffered from a tumble in oil prices. The gauge rallied 2.9 percent this month through Thursday as companies recovered from a June plunge triggered by the U.K. vote to leave the European Union. 
Economic data kept on beating forecasts. Earnings from PSA Group, the maker of Peugeot and Citroen cars, to Spain's Banco Santander SA topped analyst predictions, and ARM Holdings Plc surged 48 percent as SoftBank Group Corp. agreed to buy it. Germany's DAX Index came close to entering a bull market, while U.K. mid-cap stocks have almost erased their post-Brexit losses.
The rebound, though, came amid thin volume, indicating little conviction in the rally. July was marked by record outflows from the region's equity funds, with global managers turning underweight for the first time in three years.
Here is a snapshot of Europe's stock market, and what's behind the advance:
1. Still Behind




July tends to be a strong month for the Stoxx 600, which rallied more than 3.9 percent in five of the last seven periods. But while gauges of U.S. and Asian equities have recouped from their declines following the U.K. referendum, this month's rise wasn't enough for European stocks to recover. And the value of shares traded was about 16 percent below the daily average from January to June.
2. Tech Is King

Technology shares rose the most among Stoxx 600 groups, boosted by ARM's deal and earnings reports. STMicroelectronics NV forecast faster-than-expected third-quarter sales, profit at computer-mice maker Logitech International SA topped the highest estimate, and Apple Inc. suppliers such as AMS AG surged as demand grew for iPhones. The industry group is poised for its best month in more than seven years.
3. DAX Bets

With a 6.1 percent rally, the DAX was one of the leading markets in the developed world. While one-month volatility expectations tumbled, bets for swings in the next six months fell less. As a result, the cost of hedging for the longer term rose to a two-year high versus shorter-term wagers, signaling that investor skepticism remains.
4. Worsening Outlook

Strategists who kept year-end predictions virtually untouched in the weeks leading up to the U.K. vote capitulated this month. After coming into 2016 expecting a 10 percent annual gain in the Euro Stoxx 50 Index, they're now predicting a 9.2 percent tumble -- which would mark the worst year since the height of the sovereign-debt crisis in 2011. Analysts are projecting a 2.5 percent contraction in earnings this year, down from estimates for 4.2 percent growth at the start of the year.
Before it's here, it's on the Bloomberg Terminal.
LEARN MORE