Deutsche Bank Says Billionaire Vik May Face Jail Over Debt
By and
Vik's Sebastian Holdings owes lender about $290 million

Bank says entrepreneur is trying to evade legal debt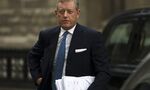 Deutsche Bank AG asked a London judge for permission to seek a contempt of court order against Alexander Vik over $290 million in debts from a seven-year-old lawsuit, meaning the Norwegian billionaire could be sent to prison if he doesn't comply.
Vik's trading company Sebastian Holdings sued Deutsche Bank for as much as $8 billion over trades that collapsed during the market crash of 2008, one of the largest cases ever heard in the U.K. A London judge ruled against Sebastian in 2013, and Vik was ordered to pay the trading debt as well as the bank's legal costs.
The German lender has since accused Vik, who it described in court documents as a billionaire living in Monaco, of setting up sham trusts and transferring assets to family members. In April, a Norwegian court agreed to freeze shares in an Oslo software company that were linked to Vik.
Vik has shown a continuing "pattern of evasion," Deutsche Bank's lawyer Sonia Tolaney said at a court hearing Thursday. "We say Mr. Vik has lied."
At the hearing, Deutsche Bank sought permission to serve its application for a suspended committal order against Vik in Monaco, the start of a legal process that could end with him being sent to prison if he doesn't provide the information the bank is seeking.
Vik's lawyers said in court documents that the proceedings could result in the 61-year-old investor going to jail. Vik denied hiding assets when he testified at a London court hearing in December.
Depriving Liberty
Deutsche Bank should not be allowed to "sidestep the important and legitimate hurdles which must be overcome before potentially depriving an individual in Mr. Vik's position of his liberty," the lawyers said in the filing.
Last year, London judge Nigel Teare ordered Vik to hand over documents about Sebastian Holdings' assets and warned him: "You must obey this order. If you do not, you may be sent to prison for contempt of court," according to a Deutsche Bank filing prepared for the hearing.
The court "has been treated to a parade of prejudiced points," Vik's lawyer, Duncan Matthews, said at the hearing Thursday.
London judges have the power to imprison, as a last resort, parties in lawsuits who flout their directions. 
In February, former Russian senator Sergei Pugachev was sentenced to two years in jail for defying a dozen court orders by selling luxury cars and failing to hand over travel documents in a case involving the collapse of International Industrial Bank. The former chairman of Kazakhstan's BTA Bank JSC, Mukhtar Ablyazov, was ordered to be jailed for 22 months for contempt in 2012.
Neither man has returned to the U.K. to serve the jail terms.
Harvard alumnus Vik made his fortune with internet firm Xcelera Inc., and tried unsuccessfully to break up French media company Vivendi SA in 2006. He opened a vineyard in Chile in 2004.