business
Thiam Facing Investor Doubts Even as Credit Suisse Posts Profit
By and
Credit Suisse shares tumble 5% in Zurich, reversing gains

Bank reports unexpected profit in second quarter on cost cuts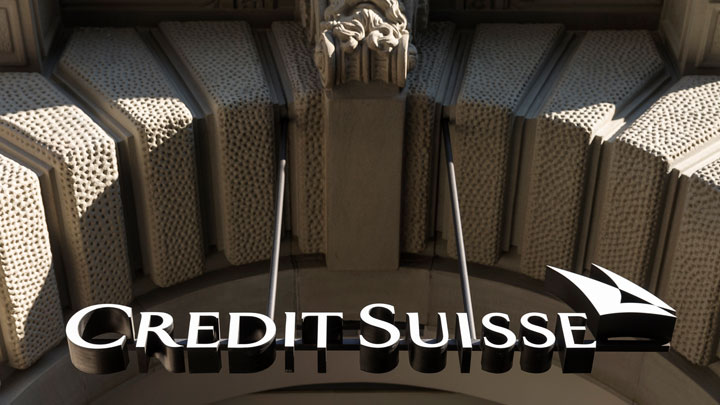 Credit Suisse Group AG Chief Executive Officer Tidjane Thiam ended six months of losses last quarter. That wasn't enough to convince investors his turnaround is on track.
The CEO signaled on Thursday that Credit Suisse is on course to cut 1.7 billion Swiss francs ($1.7 billion) in costs and 6,000 jobs this year as part of his wider overhaul that runs through 2018. Yet he declined to comment on whether the bank will post a full-year profit, and said many "uncertainties" cloud the horizon. The shares reversed earlier gains, dropping 5 percent.
"A quarter remains a quarter," said Peter Casanova, an analyst at Kepler Cheuvreux in Zurich, with a hold recommendation on the shares. "Credit Suisse is not yet out of its 'mid-life crisis' -- it has to conclude its transition phase."
Since taking over a year ago, Thiam, 53, has struggled to stem a slide in shares that eroded about 56 percent of the company's market value. Like his counterpart at Deutsche Bank AG, John Cryan, Thiam is trying to overhaul the second-largest Swiss bank at a time when rising capital requirements, slumping client activity and record-low interest rates are eating into profitability. Credit Suisse posted a full-year loss in 2015.
"We've had a really tough environment for banks in the last 12 months," Thiam told Francine Lacqua in an interview on Bloomberg Television on Thursday. "We're really disciplined on all fronts. It's the first time we've seeing absolute costs going down -- it's a beginning but a good beginning."
Beneath the surface, the second-quarter results didn't impress, said Michael Kunz, an analyst at Zuercher Kantonalbank in Zurich. While the 170 million-franc net income beat analysts' estimates, the result was bolstered by the release of 28 million francs previously set aside to cover potential losses and a 64 percent decline in overhaul-related expenses to 91 million francs.
"Those two effects were enough to turn the expected loss into a profit on a pretax basis," said Kunz.
Revenue Declines
Net revenue, excluding the strategic resolution unit, dropped 16 percent to 5.5 billion francs in the quarter from a year earlier, while costs on that basis declined 2.1 percent.
The common equity Tier 1 ratio, a measure of financial strength, rose 0.4 percentage point to 11.8 percent from the end of March. The lender will seek to maintain a ratio of 11 percent to 12 percent for the rest of 2016, in what Thiam called "conservative" guidance.
"The third quarter has really just started and we're clear in our outlook that we are cautious," Thiam said at a press conference in Zurich, when declining to comment on full-year earnings. "A lot of what we can say is market-dependent and there are quite a few uncertainties."
Deutsche Bank
Deutsche Bank said on Wednesday that second-quarter profit was almost wiped out by a slump in trading and restructuring costs. Like Thiam, Cryan is cutting risky assets and eliminating staff to bolster profitability and restore confidence in the bank. BNP Paribas SA on Thursday posted second-quarter profit that beat estimates.
At Credit Suisse, the global markets unit, housing securities trading, posted a pretax profit of 154 million francs, down from 391 million francs a year earlier. The business, led by Tim O'Hara, helped spark a larger-than-expected loss in the fourth quarter as a result of writedowns on mainly distressed credit and securitized pools of risky loans.
Revenue from trading equities dropped 10 percent from a year earlier, while credit trading declined 20 percent in the period, trailing U.S. investment-banking peers. At Deutsche Bank, equities-trading revenue slumped 31 percent from a year ago.
"If you look at earnings, this is not really the performance we saw at the U.S. investment banks," said Chirantan Barua, an analyst at Bernstein with an underperform rating on the shares. "It's more a Deutsche Bank-like performance."
As part of his revamp, Thiam followed UBS Group AG CEO Sergio Ermotti is concentrating on wealth management. Credit Suisse also restructured along regional lines, building universal bank units for the Asia-Pacific region and Switzerland, as well as an international wealth management unit.
"There are a lot of clouds on the horizon," Thiam said in the interview. "We remain confident that we'll remain disciplined and continue to grow selectively."
— With assistance by Chris Malpass, Justin Villamil, Nicholas Comfort, and David de Jong
Before it's here, it's on the Bloomberg Terminal.
LEARN MORE