Why You Shouldn't Necessarily Trust the Convention Bounce
Trump's claim of enjoying "one of the biggest bounces in decades" is overstated—and most convention bounces are deceptive.
By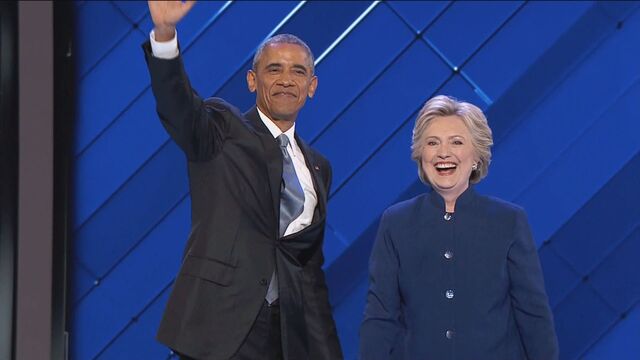 As the Democratic National Convention draws to a close in Philadelphia this week, Hillary Clinton can only wish for the kind of polling bump her husband enjoyed after he was first nominated in 1992.
Bill Clinton shot up in the national Gallup poll by 16 percentage points following his convention in New York City, helped by the withdrawal from the race by independent candidate H. Ross Perot on the last night of the meeting. The lead over President George H.W. Bush was one Clinton would never give back. He eventually won—Perot had by then rejoined the race—by 5.5 points nationally.
Clinton's epic 1992 bump, and its persistence through election day, has been the exception, not the rule. Convention bounces are sometimes described as sugar highs, providing a sudden jolt, often followed swiftly by a crash. Pollsters caution they shouldn't be given too much weight because surveys taken around the conventions can be skewed.
"It's a very noisy time in polling, especially during the next six weeks," said John Della Volpe, director of polling at the Harvard University Institute of Politics. "I'm more interested in looking at the internals of the polling and less the horse race until we get closer to Labor Day."
To the candidates, on the other hand, a good post-convention polling number is useful indeed—they can brag about it. On Wednesday, at a news conference in Florida, Trump told reporters he'd received "one of the biggest bounces in decades" from a convention, a claim that the numbers, even from the most favorable polls, don't bear out.
Some surveys released after last week's Republican National Convention in Cleveland showed a modest uptick for the billionaire real estate investor and former reality television star, but not one out of line with recent history.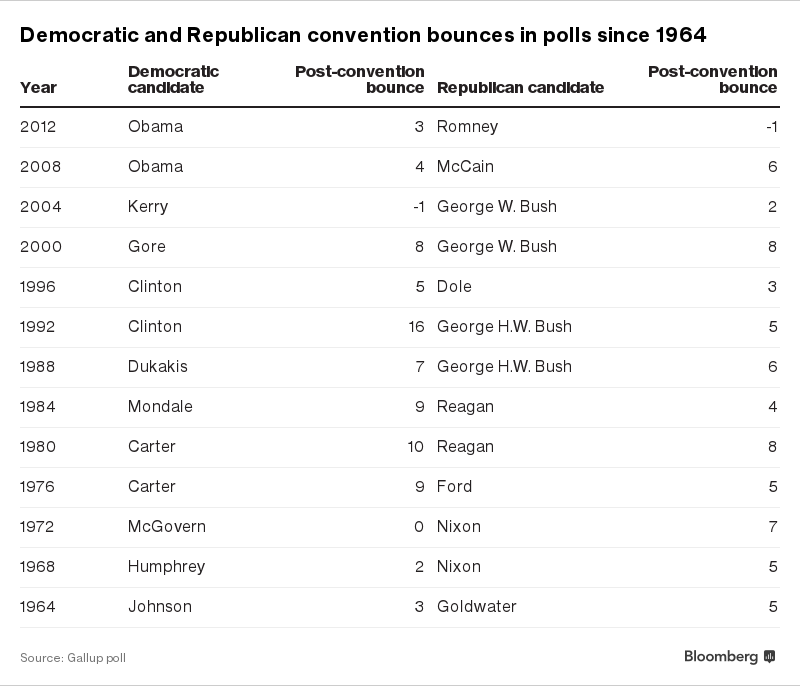 A CNN/ORC poll had Trump leading Clinton by 5 percentage points, up 6 points from before the convention, while an online survey by Morning Consult showed Trump ahead by 4 percentage points, reversing the 2-point lead Clinton had before the Cleveland gathering.
In Philadelphia this week, Clinton's team has downplayed the significance of any gains made by Trump after his convention.
"The bounce is only relevant in that it's reinforcing that the election is going to be close," Joel Benenson, a Clinton senior strategist, said at a Bloomberg Politics event north of the convention venue.
He also pointed to variation in polls taken after the Cleveland convention. "The only thing you know about last week's polls is that not all of them were right—they couldn't be," said Benenson, who did polling work for both of President Barack Obama's White House campaigns.
Presidential candidates often try to dampen the bounce their rivals might receive from a convention by timing major announcements during or immediately after the events, as Clinton did with her naming of Senator Tim Kaine of Virginia as her running mate last week.
Winning a convention bump is also harder than it used to be. The days of one candidate not trying to make their own headlines during the other party's convention are long gone. The rushing flow of social media and cable news coverage has made it easier for both parties to stay in the conversation during conventions.

On Wednesday, Trump held a lengthy news conference in Florida where he said he hoped Russia would find and release 30,000 personal e-mails Clinton deleted from her private server while secretary of state. By essentially encouraging another country to commit espionage, in partial jest or not, he immediately jumped back into the news during the peak of the Democratic convention.
Political science research suggests that the size of a convention bump depends on many factors, including how far ahead or behind a candidate is heading into the convention. If a candidate is already doing well, the bump tends to be smaller.
The size of convention bounces has also been trending smaller in the last few decades. It's averaged about 3.8 percentage points in recent presidential election cycles, according to Gallup.
Della Volpe, the polling director from Harvard, said he suspects much of Trump's gains from his convention may stick because it appears that much of it was due to solidifying his standing with the Republican base.
"It's not about whether or not there is a bounce, but what drives the bounce," he said. "Eighty percent of that bounce might stick."
Clinton may also be able to make such gains, if she can win over progressives who backed Senator Bernie Sanders of Vermont during the primary and convince independents that she has the right experience and priorities for the job.
It's not a surprise that the most crucial element in driving a convention bump is the acceptance speech."What the Republicans showed last week was that they could have a disaster of a convention and it can all be kind of net-neutral if the speech on Thursday night is something that supporters want to hear," said Democratic strategist Bill Burton, a former top Obama adviser who was among his earliest presidential campaign aides.
While convention bumps can be fleeting, Burton pointed hopefully to the experience of Clinton's husband in 1992.
"I think it's possible that Hillary Clinton could get a statistically significant lead coming out of this and not let go of it," he said. "I don't think that's necessarily the likely outcome, but I think that it's definitely in the realm of possibility."
—With assistance from Kendall Breitman in Philadelphia
Before it's here, it's on the Bloomberg Terminal.
LEARN MORE