Clinton Rips Trump's Qualifications and Declares Herself Ready
By and
Democratic nominee reaches out to supporters of Bernie Sanders

Clinton calls Trump's vision for nation 'Midnight in America'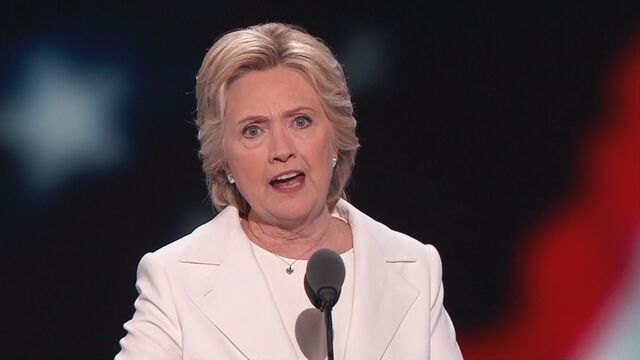 Hillary Clinton said the U.S. is heading toward the 2016 election at a critical juncture, and she belittled Republican Donald Trump's claim that he alone can solve the nation's problems, warning that the boast should ring alarm bells for every voter.
In accepting her historic nomination as the Democratic Party's presidential candidate, Clinton acknowledged that the U.S. is confronted by a turbulent world. But she said the country's strength comes from every segment of society working toward a common goal.
"America is once again at a moment of reckoning," Clinton said as she became the first woman to accept a major party's nomination for president Thursday in Philadelphia. "Powerful forces are threatening to pull us apart. Bonds of trust and respect are fraying."
She used her prime-time speech to blast Trump as someone whose message is based on generating fear and division, using a reference to the theme of Republican Ronald Reagan's 1984 re-election campaign to drive home the point.
"He's betting that the perils of today's world will blind us to its unlimited promise," she said. "He's taken the Republican Party a long way, from 'Morning in America' to  'Midnight in America."'
While Trump and other Republicans have criticized Democrats for infrequently mentioning the war on terrorism at their convention, she suggested that Trump's boasting on the topic belies a lack of knowledge.
"Now Donald Trump says, and this is a quote, 'I know more about ISIS than the generals do,'" Clinton said. "No, Donald, you don't."

She also needled him as thin-skinned and unfit to serve as president.
"Imagine him in the Oval Office facing a real crisis," she said. "A man you can bait with a tweet is not a man we can trust with nuclear weapons."
Trump took to Twitter to respond, accusing Clinton of being "unfit to lead the country" and weak on terrorism. "Our way of life is under threat by Radical Islam and Hillary Clinton cannot even bring herself to say the words," he tweeted.
Sanders Supporters
Clinton also reached out to Senator Bernie Sanders and his supporters, who have staged protests against her this week. Democrats had worried that pro-Sanders protesters would disrupt her speech, but in the end they were limited to a handful of shouted taunts as she took the stage. A few Sanders supporters were escorted from the building.
"To all of your supporters here and around the country, I want you to know, I've heard you," she said. "Your cause is our cause."
Chelsea Clinton, 36, introduced her mother, seeking to soften the candidate's image by highlighting her maternal role as a loving grandmother.
"She's a listener and a doer, she's a woman driven by compassion, by faith, by a fierce sense of justice and a heart full of love," she said.
Clinton made an expansive case against Trump, singling out his business failures and his claim last week that "I alone can fix" the troubles in the U.S.
'Fix it Together'
"Americans don't say: 'I alone can fix it.' We say: 'We'll fix it together,"' she said. "Our Founders fought a revolution and wrote a Constitution so America would never be a nation where one person had all the power."
She criticized Trump for offering almost no specific plans, should he be elected president, in his own nomination acceptance speech. But Clinton's speech was also spare on detail. She laid out a lengthy list of domestic goals for her presidency without saying how she would accomplish them.
She pledged to make college more affordable, ease the burden of student loan debt, increase infrastructure investments, overhaul immigration laws, expand health care coverage and close tax loopholes.
On foreign policy, she pledged to defeat Islamic State extremists and boost America's standing with world allies.
Republican National Committee Chairman Reince Priebus immediately criticized Clinton's agenda, saying it lacked details and "left America more ripe for terrorist attacks."
Republican Reaction
"Tonight's speech was merely a litany of platitudes which dodged a serious discussion of our slumping economy and our diminished standing in the world under President Obama, topics which should be well-known to her after spending years in his cabinet," Priebus said in a statement.
Her appeal to patriotism followed a day in which President Barack Obama and Vice President Joe Biden vouched for Clinton's national security credentials. On Thursday,
Clinton also turned to military veterans and the Muslim parents of a slain U.S. soldier to draw a contrast with Trump. The emphasis on national security caused a brief disturbance in the audience, as about 30 people chanted and held signs that read "No more wars" while retired General John Allen spoke. They were shouted down by others chanting "USA! USA!" as members of the crowd waved American flags.
Khizr Khan, a Pakistani-American whose son died while serving in the U.S. military in 2004, scolded Trump for his pledge to restrict Muslims from traveling to the U.S.
"Have you even read the United States Constitution?" Khan said, as he pulled out a pocket copy of the document. "I will gladly lend you my copy."
Clinton's Vulnerabilities
Clinton's top challenge is confronting her vulnerabilities as a candidate and healing rifts within the Democratic party. There are lingering resentments within the party among supporters of Sanders. Voters more generally have expressed mistrust of Clinton over the controversies that have dogged her career in public life, most recently the investigation into her use of a private e-mail system while she served as secretary of state during Obama's first term.
She gave a nod to those controversies, saying "I get it that some people just don't know what to make of me."
"The truth is, through all these years of public service, the 'service' part has always come easier to me than the 'public' part," she said.
To address doubts about her candidacy, Clinton sought to make the case for unity at a time when "people are anxious and looking for reassurance" due to threats of terrorism and violence.
"Every generation of Americans has come together to make our country freer, fairer, and stronger," she said. "None of us can do it alone. That's why we are stronger together."
Coming Around
Dylan Workman, 19, a delegate from Sioux Falls, South Dakota, said he'd been a Sanders supporter throughout the primary. On the final day of the convention, he'd come around to supporting Clinton, he said. The small acts of defiance during her speech made an impression, he said.
"I would still classify myself as a Bernie Sanders supporter but her speech tonight -- and looking at some of the negativity you saw surrounding the protests tonight -- I am looking toward the general election and I'll definitely be supporting Hillary," he said.
Miguel Valdez, 32, a Sanders delegate and progressive activist from Gainesville, Florida, said that Clinton did not as much convert him as instead convince him to go home and work harder to elect liberals to local political offices.
Clinton is viewed unfavorably by 55.6 percent of the public, according to an average of polls compiled by RealClearPolitics. That would be the highest ever for a major party presidential nominee were it not for Trump, whose unfavorability rating stands at 57.1 percent.
Her biggest advantage is that the party's stars have aligned with her, the protests of Sanders supporters notwithstanding. Obama and Biden on Wednesday night brought the crowd in the Wells Fargo Center to its feet with rousing speeches that lauded the former secretary of state for her experience and steadiness and denigrated Trump as a danger to the country.


— With assistance by Elizabeth Titus, Billy House, Mark Niquette, and Margaret Talev
Before it's here, it's on the Bloomberg Terminal.
LEARN MORE