China Said to Legalize Uber, Didi Ride-Hailing as War Rages
Bloomberg News
Long-awaited regulations to take effect from November

Conditions seem less onerous on ride services than feared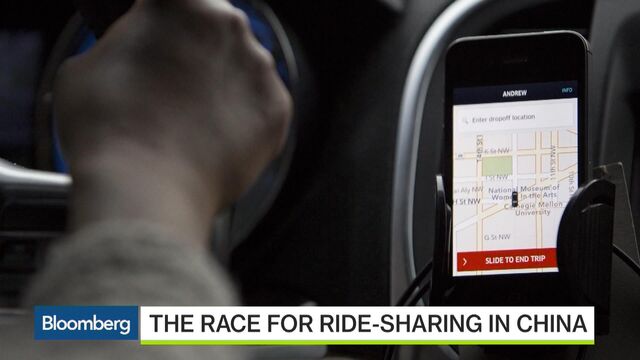 China plans to legalize car-hailing services from November, dispelling any regulatory uncertainty surrounding Uber Technologies Inc. and Didi Chuxing as they vie for supremacy in the world's largest ride-hailing market, according to prepared remarks expected to be delivered on Thursday.
The country's transport ministry is scheduled to declare that online car-booking services can operate lawfully, according to the prepared comments reviewed by Bloomberg News. That would put an official stamp of approval on the ride-sharing services that already cover hundreds of cities and transport millions of people daily. The government will now encourage private auto-sharing -- including car-pooling -- but require vehicles to install safety features such as security alarms and GPS. All drivers must register with local taxi regulators and cannot have criminal records, according to the document.
Shares in Car Inc., an auto rental company that also provides car-hailing services in China, rose as much as 2 percent in Hong Kong after the news emerged. 
The transport ministry didn't respond to a faxed request for comment. Didi and Uber had no immediate comment. The document was dated Thursday, although certain conditions could have been updated or modified before the scheduled afternoon announcement.
The new regulations appear less onerous than some in the industry had feared. The transport ministry's first draft of the rules -- submitted for public feedback late last year -- suggested that only commercially registered vehicles and qualified drivers would be allowed to provide transport through ride-hailing apps, people familiar with the plan had said. The ministry also proposed giving local governments the authority to decide on the number of licenses, and would have required local offices in individual cities. 
Those conditions would have curtailed the pace of expansion for Uber and Didi, which are currently waging a pitched battle for dominance of the burgeoning market. Both are raising cash at a frenetic pace and spending billions of dollars to bankroll their expansion, a margin-eroding war that some investors are said to oppose.
China's new regulations clear the way for both parties, as well as smaller players such as Yidao Yongche, to compete freely for drivers and riders in one of the world's most pivotal competitive arenas for ride-sharing. They legitimize an industry that has had to navigate regulatory roadblocks in many countries across the globe, including on Uber's home turf of the U.S.
Following are other key points in the ministry document to be unveiled in Beijing:
* Online car booking services are legal
* Government will encourage development of a sharing economy
* It will encourage online car booking and non-cash payments
* Drivers must have a minimum of three years of driving experience
* Cars must be retired from service after upon reaching 600,000 km
* User information and data collected by car-booking platforms must be stored within the country, and for at least two years
* Cars cannot exceed seven seats
* The rules will be implemented on Nov. 1, 2016