China Minsheng Said Lead Bidder for SocGen's London HQ
by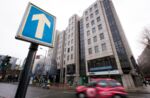 China Minsheng Investment Corp. was selected as the lead bidder to buy Societe Generale SA's London headquarters, according to two people familiar with the sale.
The bank will lease back the office in the City of London financial district for about four years after which CMI plans to refurbish the building, the people said, asking not to be identified because the matter is private. A spokesman for Societe Generale declined to comment. CMI, one of China's largest private investment funds, did not immediately respond to e-mailed requests for comment and a phone number did not connect.
CMI will pay about 85 million pounds ($112 million) for the property, about the same price Societe Generale sought when the building was offered for sale before the Brexit referendum. The French bank plans to move to London's eastern financial district at Canary Wharf in 2019, where it will lease 280,000 square feet (26,000 square meters) of office space in a new building being constructed by Canary Wharf Group Plc.
Central London office prices could drop as much as 20 percent after the U.K.'s vote to leave the European Union as companies consider moving to Europe or delay expansion plans, according Green Street Advisors LLC. The sale suggests investors remain willing to buy London offices that require modernization, betting they can find occupiers willing to pay higher rents for the refurbished building.
"This shows overseas buyers are still the lead bidders for development sites, helped by the currency depreciation," said Robert Murphy, a partner at broker Cushman & Wakefield Inc. who advises on London development deals. The pound has fallen about 12.7 percent against the dollar since the referendum.
Before it's here, it's on the Bloomberg Terminal.
LEARN MORE