BNP Paribas Beats Profit Estimate Amid Surge in Bond Trading
by
CFO says investment bank to grab share from retreating rivals

Consumer banking in Europe hampered by low interest rates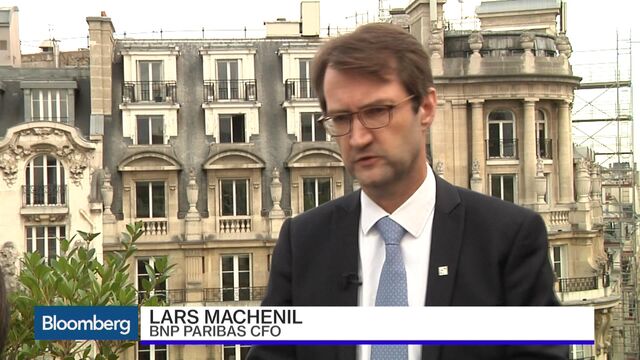 BNP Paribas SA, France's biggest bank, posted second-quarter profit that beat analysts' estimates as a surge in bond trading outweighed a drop in equities and low interest rates hampered consumer banking.
Net income was 2.56 billion euros ($2.8 billion), up 0.2 percent from a year earlier, the Paris-based bank said in a statement Thursday. That's above the 2.2 billion-euro average estimate of seven analysts compiled by Bloomberg.
Chief Executive Officer Jean-Laurent Bonnafe, 55, leads a bank that has fared better than many of its European peers in 2016 after it took additional steps to bolster capital, sparing BNP from the deep restructuring of the securities unit that competitors such as Deutsche Bank AG are undertaking. Record-low interest rates and stiffer rules have hampered the profitability of large lenders.
"We have a plan, we are executing it and so far things are under control," Chief Financial Officer Lars Machenil said in a Bloomberg Television interview. "Reaching growth also means that we have to shed our activities which are less yielding" in corporate and institutional banking, he said.

The shares, which rose as much as 3.2 percent, were down 1.2 percent at 12:37 p.m. in Paris trading as European stocks erased earlier gains in one of the busiest days for earnings this season. BNP shares are down 18 percent in 2016, less than the 29 percent decline by the 39-member Bloomberg Europe Banks and Financial Services Index.
"In a difficult year like 2016, the diversity of BNP Paribas's business model is a key competitive advantage," Jacques-Henri Gaulard, an analyst at Kepler Cheuvreux in London who has a hold rating on the shares, said in a note. "BNP Paribas reported very strong corporate and investment banking results." Bad-loan provisions were also lower than expected, he said.
Bonnafe confirmed the bank's 2016 targets at a press conference in Paris. The bank had "a good performance this quarter thanks to its integrated and diversified business model," amid a "still challenging context," he said in the statement.
BNP's total revenue rose 2.2 percent to 11.32 billion euros, compared with the 11 billion-euro average estimate from seven analysts. The bank recorded a 597 million-euro pretax gain from selling its stake in Visa Europe.
Investment Banking
Investment-banking revenue rose 1.4 percent on bond trading gains amid turbulence following Britain's vote to leave the European Union on June 23.
BNP Paribas is cutting about 12 percent of the cost base at the division, which it calls its corporate and institutional bank, to help make up for higher regulatory and compliance charges while it expands some businesses. The division, headed by Yann Gerardin, is among the few European investment banks projecting a revenue increase. In February, it set a target for average annual revenue growth of at least 4 percent through 2019.
"We are committed to the CIB," Machenil said. "We want to grow with the market, grab market share within that market." It's too early to say how the Brexit vote will impact clients' U.K. investments, or whether Paris will gain as a financial center at London's expense, he said.
Revenue from fixed-income trading rose 17 percent on "sustained business in rates and forex and good performances on credit and bond issuances," the bank said. Revenue from equity and prime services declined 19 percent.
Restructuring Challenge
The French bank's plan to rein in costs and revamp its investment bank is far less complex than the ongoing restructurings at Deutsche Bank and Credit Suisse Group AG, as the breadth and diversity of the French bank's activities provide it with steadier profit generation.
BNP has been "very proactive" cutting costs and branches, "and they're very good capital allocators," David Herro, chief investment officer of Harris Associates LP, said in a Bloomberg Radio interview Wednesday with Tom Keene. "That's what you want in a bank -- you want good risk control and you want good cost control."
BNP's "earnings should grow still over time, even in this low-interest rate environment," Herro said.
Deutsche Bank, Germany's largest lender, on Wednesday signaled it may have to deepen cost cuts after its second-quarter profit was almost wiped out by a slump in trading and charges from job reductions. UBS Group AG and Barclays Plc report earnings on Friday.
Turkey, Italy
BNP Paribas's common equity Tier 1 ratio, a measure of financial strength, rose to 11.1 percent by June 30 from 11 percent at the end of March. Return on equity, a key profitability measure, was 9.7 percent in the first half.
To reinforce its capital base, BNP Paribas is selling part of its U.S. retail-banking business. First Hawaiian Inc., the Honolulu-based lender owned by BNP, is aiming to raise as much as $485 million in an initial public offering. BNP will retain control of about 85 percent of the company after the listing.
BNP Paribas has "no particular pressure" in terms of timing to dispose of First Hawaiian, Bonnafe told journalists. The French bank is still planning to cut its stake in First Hawaiian throughout the end of 2017, or "a bit beyond" depending on market conditions, he said.
BNP Paribas's 2016 financial targets partly depend on growth in emerging markets such as Turkey. The nation, whose government repelled a coup attempt this month, is targeted to generate more than 1.6 billion euros in revenue this year for BNP. BNP's Turkish unit, TEB, is "very solid" and "very liquid," Machenil said.
Pretax profit from the French consumer-banking unit fell 10 percent to 398 million euros as low interest rates put pressure on margins. Pretax profit at BNP's Italian consumer-banking business, Banca Nazionale del Lavoro, almost tripled to 65 million euros as bad-loan provisions declined.
"The decline in provisions is particularly significant at the Italian unit," said Alex Koagne, a Paris-based analyst at Natixis SA who has a buy rating on BNP. "Globally, the group's architecture provides resilience and performance. Retail-banking revenues keep suffering, but there is a rather good performance at CIB."
Before it's here, it's on the Bloomberg Terminal.
LEARN MORE