Berlin's Startup Hub Wants to Prove It's More Than Just a Scene
"First came the artists, then came the DJs, and then came the entrepreneurs."
By and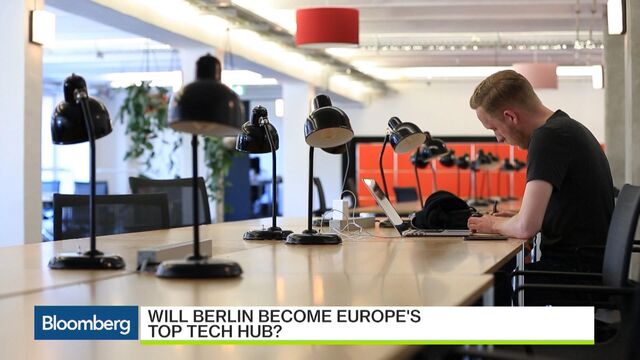 The Factory would feel pretty much like any big Silicon Valley headquarters, if you couldn't see the death strip. In the 19th century, this 130,000-square-foot Berlin warehouse held a brewery. In the 20th, it was an air raid shelter, then rested in the shadow of the Berlin Wall. East German watchtower guards gunned down people trying to scramble across the border. (Hence the term "death strip.") Today the retrofitted space is home to dozens of tech companies, including Uber and Twitter, and is the headquarters of the music streaming service SoundCloud.
Inside, the Factory is packed with all the perks of a Silicon Valley campus: nap rooms, scooters, 3D printing stations. Headphone-wearing millennials hunch over MacBooks or mill around a lounge where guitars hang from the wall near books with titles such as The Lean Startup and The Startup Game. Conference rooms are named for the regulars at Andy Warhol's Factory. There are 700 people here; in addition to the full-time employees, a lot of individual tech workers pay €50 ($55) a month for access to a common work area.

"It's a social club for startups," says Factory co-founder Lukas Kampfmann, 30, wearing a T-shirt bearing the names Steve (as in Jobs), Elon (Musk), Bill (Gates), and Mark (Zuckerberg), printed in the font Helvetica like the familiar Beatles shirt. On the roof of the warehouse, with a clear view of the former death strip, Kampfmann says his community's emulation of Silicon Valley isn't an accident. "We admire American movies, culture, fashion, music," he says, and this is the logical next step.
Across Berlin, young tech workers from throughout Europe are flooding into cafes and rehabbed Soviet-era buildings, drawn to the German capital by the promise of foosball-casual work environments, cheap rent, and an uninhibited party culture. It's a package deal that can be tough to match elsewhere in Europe. A decade ago there were a few dozen tech startups in Berlin. Now there are 2,500, and the Investitionsbank Berlin, the government's regional economic development agency, says there are 70 percent more digital jobs there than there were in 2008.
Although a handful of old-school conglomerates such as Siemens and SAP remain Germany's most visible technology companies, they're no longer the country's main draw for aspiring hardware or software developers, says Martin Hellwagner, a 27-year-old coder who moved to Berlin from Austria in early 2014. "I really wanted to work for a startup," says Hellwagner, who spends 60 hours a week working on Uberchord, a guitar-lessons app. "You have more responsibilities. It's not just a 9-to-5. You actually change something, and your opinion matters."
Berlin's startups collected €2.4 billion in venture capital last year, according to Ernst & Young. That's more than the total haul among startups in London, Paris, or Stockholm, though it's about 9 percent of Silicon Valley's take. Among the German recipients: Number26, an online bank; EyeEm, an AI startup training computers to identify high-quality photographs for publishers; and ResearchGate, the social network for scientists to collaborate, backed by Gates. Instead of getting a typical 9-to-5 job after graduation, students from area universities are starting companies such as Coolar, a maker of a vaccine storage fridge powered by heated water vapor instead of electricity.
"The caliber of people coming here is ridiculous," says Ramzi Rizk, EyeEm's co-founder and chief technology officer. "You meet people now that have massive pedigrees in building companies."
The new arrivals are very different from the starving-artist types who defined Berlin's image in the first decades after the Cold War, but both groups are attracted by Berlin's affordability (at least as compared with London or San Francisco), says Christophe Maire, an early-stage investor with a board seat at SoundCloud and other Berlin companies. And for the techies, the party scene didn't hurt. "First came the artists, then came the DJs, and then came the entrepreneurs," he says. Rizk says Berlin has become so flush with techies that new arrivals are seeing a bit of a backlash.
The German government has been financing venture funds and offering startups cheap loans through a state-owned bank. The Federal Ministry of Finance says it's setting aside an additional €10 billion for startup subsidies. "The federal government has a great interest in promoting venture capital and startup companies," Finance Ministry spokeswoman Friederike von Tiesenhausen told reporters in Berlin on July 25. Mathias Döpfner, the chief executive officer of German media conglomerate Axel Springer, says Berlin is the region's best shot at developing tech companies that can better compete on a global level.
The big tech companies of America and China dwarf those in the Factory and elsewhere in Berlin. And even though local investment is growing, the field of homegrown investors and successful entrepreneurs remains small; it's only recently that many Germans have considered starting a software or hardware company a viable alternative to a paying gig at an established business.
The city is also just starting to figure out how to reinforce and pump up its nascent startup community, says Jonas Drüppel, founder of Dubsmash, which makes an app for sharing lip-syncing music clips. "The talent pool here is great, but it's very small," he says, adding that he's among the Berlin startups considering a move to the U.S. for better access to talent and funding. Even Berlin's biggest recent tech success hasn't worked out well: Rocket Internet, the startup incubator, has lost half its value since going public in 2014.
For Berlin's tech industry to thrive in the long term, investors say, successful companies need to stick around long enough to go public or sell themselves—and produce a crop of rich alumni likely to start ventures or fund others. "You need people who have had success who are then reinvesting their time, their experience, and their money into the ecosystem," says Albert Wenger, a partner at New York's Union Square Ventures, which backed Twitter and SoundCloud. "Berlin is beginning to go through that cycle."

For now, Berlin has at least got the tone right. A few days after the U.K. voted to leave the European Union, a German political party paid for a truck to drive through London with a billboard advising startups to "Keep calm and move to Berlin." In mid-July a former East German radio propaganda station played host to the city's fifth annual Tech Open Air conference. (Think South by Southwest with slightly more hefeweizen.) There, a blues band played as attendees with €400 tickets drank and mingled near a treehouse sponsored by travel website Kayak.
Along with talks on AI and VR and sessions training startup founders how to pitch were workshops with names like "The Art of Hugging." Two aspiring entrepreneurs wore T-shirts soliciting investors for an app that sends daily bedroom ideas to couples. It could be an episode of HBO's Silicon Valley. Except for the death strip, a reminder that Berlin wasn't always so hip and goofy.
The bottom line: Berlin is home to 2,500 tech startups, many with a Silicon Valley flair. The next step is for one to build a Valley-beating product.
Before it's here, it's on the Bloomberg Terminal.
LEARN MORE