Amazon Forecasts Sales That May Beat Estimates on Prime Day
By
Cloud-computing unit revenue gains 58 percent in quarter

Packing, shipping costs rise 35 percent on faster delivery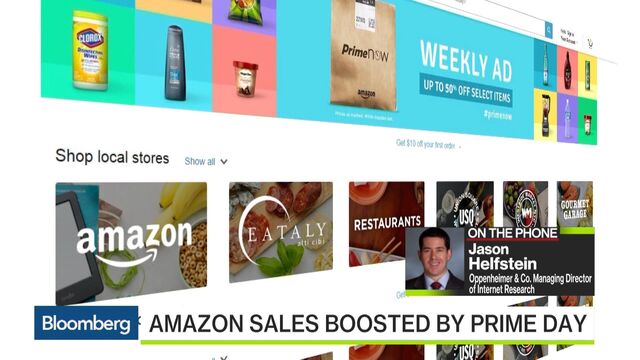 Amazon.com Inc. projected revenue for the third quarter that may beat analysts' estimates, boosted by record sales of Fire TV sticks and Echo devices on Prime Day and a strong start to its expansion in India.
Key Points
Revenue in the current quarter will be $31 billion to $33.5 billion, the company said Thursday in a statement. Analysts estimated $31.6 billion, according to data compiled by Bloomberg.
Sales gained 31 percent to $30.4 billion in the second quarter compared with analysts' projections of $29.6 billion.
Amazon Web Services revenue increased 58 percent to $2.89 billion from a year earlier.

Shares gained as much as 4.7 percent in extended trading after the earnings were released. Earlier, the stock rose 2.2 percent to close at $752.61 in New York.
The Big Picture
Amazon dominates e-commerce in the U.S. with its $99 Amazon Prime annual subscription, which includes delivery discounts, music and video streaming and photo storage that keep shoppers engaged with the company. It continues to invest in logistics to set the pace on fast delivery, offering to get tens of thousands of items to customers in as little as an hour in many cities. The fast-growing and profitable cloud computing division Amazon Web Services has reinvigorated investors, allaying concerns about razor-thin margins from e-commerce sales and helping make Chief Executive Officer Jeff Bezos the fourth-richest man in the world.

The Detail
Amazon reported net income of $857 million, or $1.78 per share, in the second quarter. Analysts estimated profit of $1.12 a share.
Packing and shipping costs increased 35 percent to $3.9 billion in the quarter.
North American sales from electronics and other general merchandise, Amazon's largest segment, increased 32 percent to $14.5 billion.
International revenue increased 30 percent to $9.8 billion as the company seeks to replicate its U.S. success abroad, particularly investing billions to target India.

The company's said its second Prime Day in July generated 60 percent more sales than the first event a year earlier.
Company View
Amazon Chief Financial Officer Brian Olsavsky said Amazon would double its spending on digital content in the second half of the year compared with a year earlier to expand the number of TV shows and movies available to Prime subscribers.
Amazon will open 21 new fulfillment centers at the end of the third quarter compared with 10 at the same time last year. The warehouses where items are stored, packed and shipped will help the company prepare for the holiday season and the growth of its Fulfillment By Amazon service, logistics offered to merchants who sell on Amazon's marketplace, Olsavsky said.
Street Takeaways
"Amazon's revenue growth indicates it continues to take market share and Prime membership is taking off in Europe and Japan and shows promise in India," said RJ Hottovy, an analyst at Morningstar Inc. "That means Amazon is replicating its success in U.S. abroad."
"They are really putting the narrative that this company can't be profitable to rest," he said. "A lot of it is Amazon Web Services, but even the North American e-commerce unit is profitable."
The number of items sold globally increased 28 percent, the highest growth rate in 10 quarters, said Vic Anthony, an analyst at Axiom Capital Management.
Before it's here, it's on the Bloomberg Terminal.
LEARN MORE