Xiaomi's Laptop Targets Chinese Buyers Who Can't Afford a Mac
By
The high-end Mi Air will start at $749 and is aimed at youths

Chinese company needs to target new markets to drive growth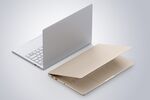 Xiaomi Corp.'s brand-new laptops are embracing the same strategy that worked so well for its smartphones: target buyers who want Apple Inc.'s designs but find the products beyond their reach.
Xiaomi, the company valued at $46 billion that took the Chinese market by storm with cheap customizable phones, unveiled the Mi Notebook Air Wednesday. The high-end gaming-ready model goes on sale on Aug. 2 for 4,999 yuan ($749) and up, while the 13-inch MacBook Air starts at 6,988 yuan.
China's second-most valuable startup is exploring new businesses from smart devices to TVs as its smartphones begin to get crowded out of the domestic market by Huawei Technologies Co., Oppo and other aggressive local brands. Its second-quarter shipments slid 20 percent, according to Tim Coulling, an analyst at research firm Canalys.
"Apple built some great laptops, so did home-grown Lenovo. But the top laptops on the market are either light in weight or good in performance. We want make something that is both light and super-fast," Lei Jun, Xiaomi's billionaire co-founder, told a launch audience at Beijing's National Convention Center.
At 1.28 kilograms or 2.8 pounds, the larger Mi Air is lighter than the 13-inch MacBook Air's 1.35 kg. Lei has dismissed comparisons with Apple and said he didn't want to be hailed as the country's Steve Jobs. But his new laptop shares more than a name with Apple's lineup: it sports rounded corners, a metallic body and minimalist design, signatures of the MacBooks.
The biggest difference between the two products may be the blank canvas of the back-casing. That's intended to allow users to customize the look of their laptops ahead of release. Xiaomi will even sell licensed stickers -- such as reproductions of Vincent van Gogh paintings. It contends that customization is key to the young people who will become major buyers of the device.
In PCs, Xiaomi is taking on long-standing leaders Lenovo Group Ltd. and HP Inc., during the industry's biggest-ever downturn. Global PC shipments are expected to slide 7.3 percent in 2016, according to IDC. But it hopes to re-cycle the recipe that briefly made Xiaomi the country's best-selling smartphone brand in 2014: online community, customization and low price-tags.
Xiaomi's devices will come in two screen sizes, 13.3-inch and 12.5-inch, with the bigger model featuring an Intel Core i5 processor and 256 gigabytes of storage. The smaller model will cost just  3,499 yuan but comes with half the memory and storage. Devices with similar configurations, such as Microsoft Corp.'s Surface Pro 4, sell for more than 6,500 yuan.