U.S. ELECTION WRAP: TPP Debate Swirls as Kaine, Obama to Speak
Can Clinton running mate Tim Kaine win over progressives?
By , , and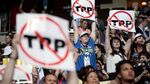 Hillary Clinton running-mate Senator Tim Kaine takes the stage tonight at the Democratic National Convention amid pressure to show skeptical progressives he's on their side, especially regarding U.S. trade policy.
The effort to showcase Kaine's progressive credentials comes as Democrats attempt to rally behind their nominee in Philadelphia
The push for unity hit another potential speed bump when Virginia Governor Terry McAuliffe, who chaired Clinton's 2008 presidential bid, told Politico she would back the controversial Trans-Pacific Partnership trade deal--with changes--as president; he later walked the comment back after Clinton aides rushed to say he was wrong

"I can be definitive. She is against it before the election and after the election," Clinton campaign chairman John Podesta told reporters. "She is not interested in renegotiating TPP"
Speaking at a luncheon sponsored by the Wall Street Journal, Podesta said Kaine also opposes the pending trade pact with 12 Pacific Rim nations

Kaine, who over the weekend counted himself a TPP opponent, has a long history of backing trade agreements; last year he was one of just 13 Senate Democrats to vote in favor of giving President Obama more leeway in sealing the TPP agreement
TPP has become an awkward flash point in the 2016 election; with Obama and Republicans including House Speaker Paul Ryan cheerleading the deal, Trump against it and Clinton, who backed it secretary of state, now an opponent
Democratic Senator Sherrod Brown of Ohio, who also speaks this evening, said he's confident Clinton and Kaine would oppose the deal, post-election

Kaine "will be there on this, he will be solid," Brown told reporters

Washington Post looked at McAuliffe's TPP gaffe and why it hurts Clinton; see story here
Trump seized on the brouhaha

"Just like I have warned from the beginning, 'Crooked' Hillary Clinton will betray you on the TPP," the GOP nominee said in Twitter post
At a news conference in Miami, he termed her "bought and sold by special interests"

Former National Foreign Trade Council President William Reinsch told Bloomberg News he believes Clinton when she says she's now against TPP

When she backed it as secretary of state, she likely was being a "good soldier" for the Obama administration, he said

Reinsch, who previously served as legislative assistant to the late GOP Senator John Heinz of Pennsylvania, noted that neither Trump nor Clinton would have control over what a lame-duck session of Congress chooses to do on TPP after the November election
Along with Obama and GOP congressional leaders, TPP has broad business support, including from farmers who would get access to the Japanese markets
The pro-TPP National Association of Manufacturers is "very disappointed" in what Trump and Clinton are saying about the accord, said Linda Dempsey, the group's vice president

"If we don't pass TPP this year, U.S. manufacturers will continue to lose global market share," she said in an interview
Access to the Asia Pacific region is crucial, as it's the fastest-growing market in the world, she said
The U.S. currently is on the "sidelines" as China, Mexico and European nations negotiate deals that exclude and disadvantage the nation, she said
Click here to get the U.S. Election Wrap by e-mail every afternoon

DNC DAY 3
Vice President Joe Biden speaks to the convention tonight, and the evening ends with Obama in the spotlight
Former NYC Mayor Michael Bloomberg is to give a prime-time address, in which he'll endorse Clinton

Bloomberg switched from Democrat to Republican in 2001, then became an independent
Bloomberg is founder and majority owner of Bloomberg LP, parent company of Bloomberg News

RUSSIA TANGLE
While the FBI continues to investigate whether Russia was involved in hacking Democratic National Committee e-mails, Trump addressed speculation about his relationship with Russia and Putin
At his news conference, Trump said he has "never met" Russian President Vladimir Putin and has "nothing to do" with Russian business interests (see full story) 
While saying he isn't convinced Russia was responsible for the hack, Trump also called on that country to find dirt on Clinton

"Russia, if you're listening, I hope you're able to find the 30,000 e-mails that are missing" from her tenure as secretary of state
For Trump "to speak in support of acts of espionage" to affect the national election is "troubling," Clinton campaign manager Robby Mook shot back at a Wall Street Journal luncheon in Philadelphia

Trump running mate Indiana Governor Mike Pence said "serious consequences" would result for Russia if it was behind the hacking

U.S. House Speaker Paul Ryan spokesman Brendan Buck said Putin should "stay out of this election," adding that Russia is "a global menace led by a devious thug"

FIRST MAN
In his "change-maker" speech last night, former President Bill Clinton offered a chronology of his relationship with his wife and sought to counter her image as a member of the establishment

Bloomberg View's Albert Hunt said Clinton's speech "dazzled" strategists by focusing on his wife's early career and avoiding talking about himself and his own record

MSNBC's Rachel Maddow, however, said the beginning of Clinton's address wasn't very "feminist'' and called it "shocking and weird;" the end of the speech, though, was "really good," she said

OBAMA ON TRUMP
In an interview with NBC, Obama offered his thoughts on Trump and said it's "possible" Putin would try to influence the U.S. election

Trump "has repeatedly expressed admiration" for Putin, Obama said. "And I think that Trump's gotten pretty favorable coverage back in Russia"
Trump winning in November is "possible": Obama

The GOP nominee "is someone who likes attention, maybe surprised himself that he has gotten this far," Obama said, criticizing Trump's statement that "he alone can fix" the problems plaguing the U.S.
Biden followed up on MSNBC, saying Trump "knows nothing about foreign policy"

ETC
Trump has no immediate plans to release his tax information, campaign chairman Paul Manafort told CBS This Morning

"Mr. Trump has said that his taxes are under audit, and he will not be releasing them; it has nothing to do with Russia, it has nothing to do with any country other than the United States, and his normal tax auditing processes, so that issue will be dealt with when the audits are done": Manafort
Trump reiterated that stance at his news conference

Women from Pennsylvania's suburban Bucks County are key to Clinton's election strategy, Bloomberg's John McCormick reported
The New Yorker looks at efforts to mobilize Latino voters in Arizona; see story here




CONGRESSIONAL RACES
AK-SEN: GOP Sen. Lisa Murkowski has a new ad in which she says "I won't stop fighting until more oil is flowing through our pipelines" and Arctic Natl Wildlife Refuge is open for drilling

Murkowski faces three opponents in Aug. 16 primary, two Democrats vying to run against her in Nov.

AZ-SEN: Democratic Rep. Ann Kirkpatrick's campaign has seized on Trump's remark that he hopes Russia is able to find 30k missing Clinton e-mails, saying the GOP nominee "is the guy" her opponent, Republican Sen. John McCain, wants to be next president
IN-SEN: Conservative group Freedom Partners Action fund has new TV ad supporting GOP Rep. Todd Young that knocks Democratic ex-Sen. Evan Bayh for voting for "bailout," then taking a job with a bank; Bayh seeking to reclaim seat he retired from in 2010
OH-SEN: GOP Sen. Rob Portman has new TV ad featuring human trafficking survivor, saying lawmaker's advocacy against the abuse gave her hope
PA-SEN: Trump's comments on Russia and cyberattacks broached by Democrat Katie McGinty, who calls on her Nov. opponent, GOP Sen. Pat Toomey, to denounce the remarks
VA-SEN: Va. Gov. Terry McAuliffe says he's "got about 8-to-10 brand new best friends" as he starts to weigh who he'd appoint to replace Kaine if Democratic presidential ticket wins White House

McAuliffe reiterates in MSNBC interview he won't pick himself

FL-02: Conservative group Club for Growth Action has new ad attacking Republican Neal Dunn as a "liberal lobbyist, Obamacare-loving, Charlie Crist Republican"

Club for Growth PAC has endorsed Republican Mary Thomas in primary for race to replace Democrat Gwen Graham, who isn't running for re-election

GA-03: Dentist Drew Ferguson defeated state Sen. Mike Crane in GOP runoff primary to succeed retiring Rep. Lynn Westmoreland

Ferguson favored to defeat Democrat Angela Pendley in Nov. for heavily-Republican district

LA-03: Republican Scott Angelle has new TV ad that says, "we need more people backing the badge and fewer people attacking the badge"

Angelle, public service commissioner and former interim Lt. Gov., seeks to replace GOP Rep. Charles Boustany, who is running for state's open Senate seat in crowded 24-person field

WA-07: Two new TV ads aired in Seattle-based district's crowded race to replace retiring Democrat Rep. Jim McDermott

Democrat Brady Pinero Walkinshaw has ad quoting Seattle Times calling him "an unabashed progressive" and "the best choice to get things done in Washington, D.C."
Democrat Pramila Jayapal has ad saying "climate change really is the challenge of our time, we need to end the era of fossil fuels"
Women Vote!, super PAC affiliated with EMILY's List, has spent almost $50k in support of Jayapal, according to FEC filings

WI-01: Republican Paul Nehlen has new ad attacking House Speaker Paul Ryan that features Julie Golvach, whose son was killed by an undocumented immigrant, standing in front of Ryan's house saying she hopes lawmaker will change his mind "and secure the border"

Nehlen challenging Ryan in Aug. 9 primary
Before it's here, it's on the Bloomberg Terminal.
LEARN MORE