Erdogan Post-Coup Purge Claims First Finance Industry Victim
by and
Capital Markets Board files criminal complaint for report

Ak Investment strategist accused of insulting Turkish leader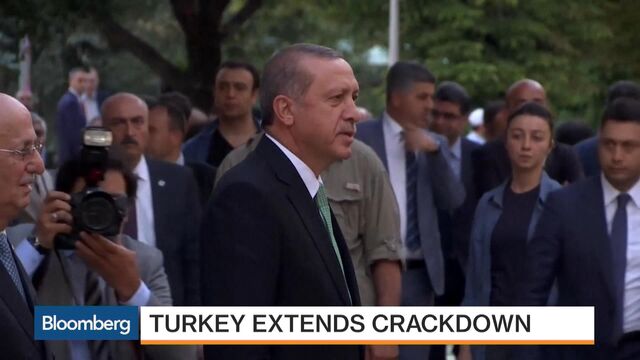 The head of research at one of Turkey's largest brokerages was stripped of his professional license and is facing criminal charges over a report analyzing the impact of the July 15 coup attempt, marking an extension of President Recep Tayyip Erdogan's crackdown to the nation's private financial sector.
The Capital Markets Board published the decision in its bulletin on Wednesday, saying the strategist, Mert Ulker, failed to "fulfill his responsibilities" in the preparation and publication of a July 18 report produced by Ak Investment, the brokerage arm of Turkey's second-largest bank. Ulker also faces charges under articles 299 and 301 of the penal code, which make insulting Turkey's president, the nation or its institutions a crime. The CMB license is required to work in capital markets in Turkey. The statement didn't say whether Ak Investment's status was affected.
Ulker, who was also chief strategist for the Istanbul-based broker, is the first analyst to have his license revoked amid a purge of tens of thousands of bureaucrats, educators and security-forces personnel in the wake of the failed attempt by a faction of Turkey's military to overthrow Erdogan's government 12 days ago. Turkish regulators have been requesting that banks hand over their analysis of the putsch, with Mehmet Ali Akben, head of the banking regulator, saying on July 21 that it disapproved of the publication of "reports that would turn expectations and the atmosphere negative."
Investor Confidence
The CMB declined to comment on the issue when contacted by Bloomberg, referring to the bulletin. Ulker couldn't be reached on his cellphone following the statement on Wednesday.
"Mert Ulker's contract with Ak Investment has been canceled as of July 25, Monday and since then he is no longer an employee," said Mert Erdogmus, chief executive officer of Ak Investment, in a telephone interview on Wednesday.
Punishing analysts is likely to backfire, according to Ghanem Nuseibeh, the founder of London-based risk consulting firm Cornerstone Global Associates.
"Everything that comes out of Turkey will now be taken with a pinch of salt," Nuseibeh said by telephone on Wednesday. "If this environment persists, Turkey will reach a point where confidence in its financial sector and economy will crumble, as far as foreign investors are concerned."
Government censorship is an inevitable reality for doing business in many emerging markets. Chinese authorities have installed the "Great Firewall" online and pay millions of people to monitor content that is critical of the government. And in Argentina, former President Cristina Fernandez ordered a crackdown on independent inflation estimates ahead of her 2011 re-election bid.
Market Forecasts
In a 2,750-word report published on the Monday after the putsch attempt, Ak Investment summarized the most recent developments and offered forecasts for the Turkish lira, the stock market and the impact on the economy. It also analyzed the likely trajectory of Turkish politics, saying the developments had "resulted in more power being concentrated in President Erdogan's hands."
One section of the report outlined various explanations of who was behind the coup, addressing speculation that it could have been a so-called false flag operation "stage-managed to give President Erdogan an opportunity to purge the military of opponents and extend his grip on Turkey." It downplayed that explanation as not being the most "rational" possibility. Erdogan holds Fethullah Gulen, an Islamic preacher based in the U.S., responsible for the coup attempt and is seeking his extradition for trial in Turkey.
No Comment
Some brokerages with operations in Turkey are scaling back their commentary in the wake of the coup attempt. At least five brokerages, which cited regulator requests for their research as well as investigations into their e-mail traffic, declined to comment to Bloomberg this week.
The regulator's ruling institutionalizes self-censorship that was already widespread in Turkey and will undermine the credibility of the nation's brokerages, according to Nathan Griffiths, who helps oversee about $1.1 billion as a senior money manager at NN Investment Partners in The Hague.
"In practical terms, it means I have little interest in reading research from local brokers because they are effectively unable to offer balanced commentary," Griffiths said. "It's terrible for the integrity of the Turkish brokerage community."
Before it's here, it's on the Bloomberg Terminal.
LEARN MORE