Trump's New Legal Trap: Trial Over Florida Golf Membership Fees
By
West Palm Beach judge lets lawsuit go to trial in August

Trump sees ruling as favorable with most claims tossed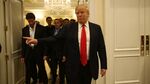 Donald J. Trump has another legal trap to negotiate while on his campaign for the White House: angry golfers testifying against him.
Trump's already embroiled in legal fights on both coasts with former Trump University students complaining they were the victims of fraud and with celebrity chefs who pulled out of deals to open restaurants in his new Washington D.C. hotel. Now, a judge has ordered his company to go on trial next month in Florida over a dispute about unpaid golf membership refunds.
Some members of the Trump National Golf Club Jupiter sued to get their money back after Trump allegedly changed the membership rules following his 2012 acquisition of the money-losing venture from Ritz-Carlton Hotel Co. for $5 million. Trump told them if they didn't like the new rules to get lost.
"If you choose to remain on the resignation list, you're out," Trump wrote in a 2012 letter to the members, according to a document that will be offered into evidence at the trial in West Palm Beach federal court. "As the owner of the club, I do not want them to utilize the club nor do I want their dues."
For a graphic on Trump's lawsuits, click here
A federal judge this week denied Trump's request to have the lawsuit dismissed and the case is set to go to trial in August.
The judge found that on three grounds the club didn't breach the membership agreement, although a fourth remains in dispute.
"We view the ruling as favorable," said Alan Garten, general counsel for the Trump Organization.
The trial won't be a distraction to Trump because he won't be required to testify, Garten said.
A federal judge in San Diego set Nov. 28 as the start date for a trial over the Trump University fraud claims and said on July 22 that he's also leaning toward letting former students with racketeering claims take their case to trial.
The former Trump University enrollees claim they were cheated with false promises into paying as much as $35,000 for real-estate seminars and workshops.
Resignation List
The golf club members who sued were on a resignation list when Trump took over the Jupiter resort. The membership agreement said the club would refund their deposits -- which ranged from $35,000 to $210,000 -- once their memberships were reissued and that they could use the club until they received the refund. Shortly after buying the club, however, Trump told the members on the resignation list that they were no longer welcome, according to the complaint.
Trump National in Jupiter is in a gated community, about 16 miles north of West Palm Beach. The resort features a 7,531-yard Jack Nicklaus-designed golf course, as well as a spa, tennis, fitness center and restaurants.
"It's a true luxury lifestyle," Trump says in a welcome message on the club's website.
The club garnered national attention after Trump held a news conference there, while showcasing his products including Trump Steaks, Trump water and Trump magazine. Trump's then-campaign manager Corey Lewandowski was accused of assaulting a female reporter following the news event. Lewandowski wasn't charged.
Turned Away
Trump claims that members on the resignation list weren't denied the use of the club, despite the message in the letter. Members who sued were only turned away because they had stopped paying their annual dues, he said.
The purchase agreement between Trump and Ritz-Carlton said Trump assumed responsibility for as much as $41 million in refundable deposits, according to court records.
Last year, District Judge Kenneth Marra ruled the three club members who sued could represent as many as 150 members on the resignation list who hadn't received deposit refunds. Trump has settled with some of them, according to his sworn statement.
In a July 25 ruling, Marra said conflicting evidence of whether the memberships were recalled doesn't allow him to dismiss the lawsuit entirely.
"The Trump Organization broke its promise," Seth Lehrman, of the lawfirm Farmer, Jaffe, Weissing, Edwards, Fistos & Lehrman, said in an e-mail.
Trump's also embroiled in a legal fight with famed chefs Geoffrey Zakarian and Jose Andres. The chefs pulled out of deals to open restaurants in Trump's new hotel in Washington D.C. after the Republican presidential nominee disparaged Mexican immigrants as he launched his campaign last year.
Before it's here, it's on the Bloomberg Terminal.
LEARN MORE