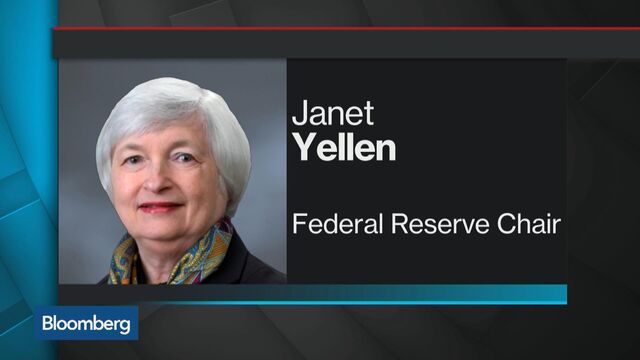 Janet Yellen and her Federal Reserve colleagues, meeting in Washington this week to discuss monetary policy, have a spate of crucial factors to consider. How strong is the labor market? What's happening with the global outlook, and what does it mean for inflation? 
Investors see a slim chance of an interest-rate increase at the Federal Open Market Committee's gathering, which concludes Wednesday. Here are the global events and economic data that have brought us to this point. 

May Payrolls
A major nail in July's coffin came even before the last Fed rate decision. In May, job gains plummeted to an initially reported 38,000, since revised down to just 11,000. That's the worst reading since 2010 and way lower than the 221,000 average gain in the year through April. Combined with a less dramatic slowdown in the prior two months, it was enough to make investors and Fed officials alike worry that the job market had hit a speed bump. 
June Decision
The Fed's June decision further dented the rate-hike outlook. In their post-meeting statement, officials noted that the "pace of improvement in the labor market has slowed" while economic activity more broadly accelerated, and even Kansas City Fed President Esther George voted to stand pat. George is an inflation hawk who dissented, in favor of a hike, when her colleagues voted to hold rates steady back in April. 
Brexit
Markets saw essentially no chance of a rate increase in July (or at any meeting this year) in the days immediately following the U.K.'s June 23 vote to exit the European Union. In the weeks since, some Fed officials have downplayed the move's importance, with St. Louis Fed President James Bullard saying that it would have "close to zero" impact on the U.S., while others have struck a more cautious note. Fed Governor Daniel Tarullo said the global financial system has weathered the initial shock of the Brexit vote, but that it isn't possible to know how much the resulting uncertainty will cut into growth. 
QuickTake The Fed Lifts Off, Barely
June Payrolls
Strong job gains in June revived the chances of a July increase — and, in a more dramatic way, bumped up the chances of a rate hike by the end of the year. Employers added 287,000 jobs last month, the strongest gain since October. The rebound in  hiring "tells me we're continuing to make progress in terms of reducing labor-market slack,'' Dallas Fed President Robert Kaplan told reporters on July 13 in Houston. 
Core Inflation
More good news has come in on the other side of the Fed's dual employment-and-price mandate: Core inflation continues to firm. The consumer price index climbed 2.3 percent from the prior year in May, excluding food and energy, data released July 15 showed. While that's not the Fed's preferred gauge, it does show progress toward the central bank's goal. The Commerce Department index that the Fed watches more closely is rising at a faster pace than last year, with its next release Aug. 2. 
Taken together, these economic changes probably aren't enough to inspire the Fed to hike rates this month. There are silver linings here that could find their way into the Fed's post-meeting statement, though, and while there's no press conference Wednesday, Yellen may provide more detail on her thinking when she speaks Aug. 26 at the annual Jackson Hole, Wyoming gathering.

For more news and analysis, see Benchmark.
Before it's here, it's on the Bloomberg Terminal.
LEARN MORE