T-Mobile Tops Profit Views, Raises Outlook for User Gains
by
Carrier expects 3.4 to 3.8 million new customers this year

Earnings of 25 cents a share beat 22-cent analyst estimate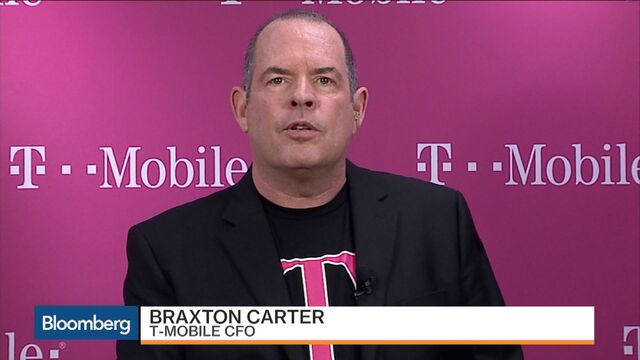 T-Mobile US Inc. exceeded analyst's profit estimates and raised its full-year forecast for subscriber growth even as the nation's third-largest wireless carrier fell short of signing a million new customers for the first time in almost two years.
The company gained 890,000 monthly subscribers in the second quarter, short of the 905,000 estimate from six estimates surveyed by Bloomberg. Yet T-Mobile expects between 3.4 million and 3.8 million new lucrative monthly subscribers this year, according to a statement from the Bellevue, Washington-based company Wednesday. Previously, the range was 3.2 million to 3.6 million.
Earnings were 25 cents a share, beating the 22-cent average of estimates compiled by Bloomberg.
Chief Executive Officer John Legere is luring subscribers by focusing on social-media marketing and free video-streaming promotions, like Binge On, without squeezing the company's bottom line in a price war. 
On a conference call Wednesday, Legere said T-Mobile is taking two new subscribers each from Verizon Communications Inc. and AT&T Inc. for every one T-Mobile loses, according to data on incoming users the company collected this week. Legere said T-Mobile has already added 25 percent more customers this month than Sprint Corp. did the entire last quarter. Earlier this week Sprint posted a customer gain of 180,000 in the quarter, sending shares soaring almost 30 percent. Following Legere's comments, Sprint shares fell, closing down 7.4 percent Wednesday.
"Congratulations, it took till about July to do what you did last quarter," Legere said of Sprint's performance.
Representatives from Verizon, AT&T and Sprint all declined to comment on Legere's comments.

T-Mobile shares rose 1.5 percent to close at $45.64 in New York Wednesday, putting the stock up 17 percent this year.
T-Mobile also narrowed its outlook for adjusted earnings before interest, taxes and amortization to $9.8 billion to $10.1 billion, from $9.7 to $10.2 billion.
Sales of $9.2 billion beat the $9 billion average projection. 
Second-quarter net income was $225 million, compared with analysts' estimates of $180.3 million.

The average phone bill shrunk 2 percent to $47.11, exceeding the $45.62 estimate average of six analysts surveyed by Bloomberg.

Wireless service margin narrowed to 36 percent from 42 percent in the first quarter. Analysts predicted a margin of 35 percent.




Before it's here, it's on the Bloomberg Terminal.
LEARN MORE