Syria Cuts Off Rebel-Run East Aleppo as 275,000 People Trapped
by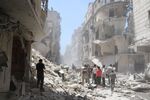 Syrian government forces seized control of the last rebel supply routes into eastern Aleppo city on Wednesday, in what a monitoring group said was their most significant advance in the province since 2013.
The siege of eastern districts of Aleppo, Syria's former commercial capital, has prompted the United Nations humanitarian chief to call for a weekly 48-hour humanitarian pause as an estimated 275,000 civilians remain trapped. Food supplies could be exhausted by mid-August, he said. The city has been divided between government and opposition forces since 2012, with clashes intensifying in recent weeks.
The surge in fighting has cast a pall over efforts to revive a broader cease-fire and resume talks on a political solution to the five-year conflict. Officials from the U.S. and Russia, which support opposing sides in Syria's war, met in Geneva on Tuesday.
Backed by allied ground forces and air power, the army "cut off all supply routes and crossings" to eastern city neighborhoods, Syria's state-run television said, citing the army general command. Aid and military supplies for rebels and civilians alike have probably been halted, according to Rami Abdurrahman, head of the U.K.-based Syrian Observatory for Human Rights. The observatory monitors the war through a network of eyewitnesses.
Russia's military intervention in Syria last September changed the tide of the conflict in favor of President Bashar al-Assad. The war, which has killed more than 280,000 people and sent millions fleeing to neighboring countries and Europe, has also allowed Islamic State to seize territory that it's used as a base to direct and inspire terrorist attacks in Europe, the U.S. and elsewhere.
Before it's here, it's on the Bloomberg Terminal.
LEARN MORE