Sputtering Car Sales Pose a Risk to U.S. Retail Momentum
Which retail segment will take up the slack?
By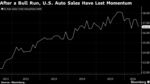 The recent calm in global markets owes a lot to the U.S. consumer, with payroll gains and rising retail sales helping to buoy the world's largest economy in June.

Yet there's one big weak spot: slowing car sales, and it's not clear which market segment will pick up this slack.

Two charts on U.S. consumption from CreditSights Inc. show just how damaging trouble in the auto industry can be. As you can see from the chart below, spending on vehicles is the largest category of U.S. retail sales, representing 20 percent of overall spending, after groceries at 13 percent. 

Crucially, demand for cars has propped up the overall retail sales figure by a particularly wide margin from mid-2014 to March 2016, offsetting weakness in gas stations (as a result of the fall in fuel prices), electronics sellers and department stores. That owes something to the aggressive bid by carmakers to offer discounts and leases to boost sales.



But the pace of vehicle sales has slowed down in the first half of the year, and they could moderate further, analysts from CreditSights, led by Isaac Codrey, wrote in a note published on Friday.
"Looking forward, the U.S. auto industry is in the seventh consecutive year of sales expansion and is at record levels of unit sales currently. Looking at auto penetration rates based on cars/household and per licensed drivers we are nearly back to peak levels as well,­ underscoring that industry growth rate from here on will likely moderate."

Fears that sector-wide auto sales have peaked is part of what's helped stock prices for Ford Motor Co, and General Motors Co. to soften this year.

It's not clear which retail segments can compensate for weakness in auto sales in order to keep consumer spending ticking up. The CreditSights analysts said that spending growth accelerated in some classes of retail outles, including restaurants and hobby stores, "which all speaks to a decent degree of consumer confidence. But the spending has not shown up in the headline grabbing general merchandise and department stores."

And then there's restaurant spending. Over the past two weeks, a slew of firms have missed analysts' sales estimates, including Chipotle Mexican Grill Inc., Del Frisco and McDonald's Corp. On Tuesday, Paul Westra, analyst at Stifel Financial Corp. downgraded restaurant stocks under his coverage, citing a decline in receipts.
The bearish outlook painted by the Stifel analyst contrasts with data released on Tuesday that showed single-family home purchases rose in June to the highest level in more than eight years, underscoring the relative strength of the U.S. housing sector.
CreditSights' conclusion remains relatively sanguine for now, but a positive outlook for U.S. retail spending is by no means a sure thing. 
"We take some comfort in the mix of categories showing growth as a prism on consumer confidence," they wrote. "Still, we will need to see broad­-based gains across categories to take the baton from auto sales."