Sputtering Car Sales Pose a Risk to U.S. Retail Momentum
Which retail segment will take up the slack?
By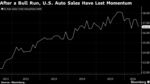 The recent calm in global markets owes a lot to the U.S. consumer, with payroll gains and rising retail sales helping to buoy the world's largest economy in June.

Yet there's one big weak spot: slowing car sales, and it's not clear which market segment will pick up this slack.

Two charts on U.S. consumption from CreditSights Inc. show just how damaging trouble in the auto industry can be. As you can see from the chart below, spending on vehicles is the largest category of U.S. retail sales, representing 20 percent of overall spending, after groceries at 13 percent.