Santander Says Spain's Political Deadlock Puts Recovery at Risk
by and
Bank's CFO says economy still doing well at the moment

Spain has no government after two elections in six months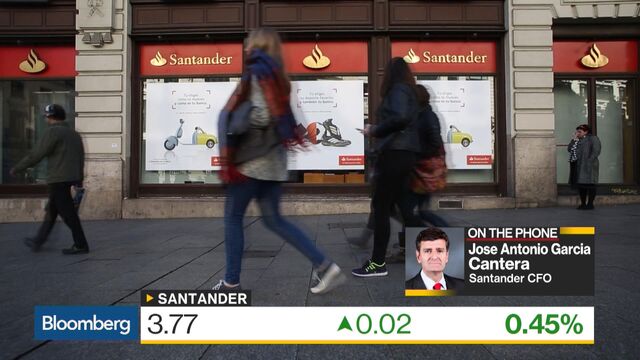 Spain needs a new government up and running as soon as possible, Banco Santander SA Chief Financial Officer Jose Antonio Garcia Cantera said, arguing that the longer the impasse takes, the greater the risk for the economic recovery.
The country has been without a proper government since December's election when caretaker Prime Minister Mariano Rajoy lost a third of his lawmakers and the opposition was split between three different groups. While Rajoy clawed back some support in a repeat ballot in June, he's made little progress winning support from rivals, raising the prospect of an unprecedented third vote before the end of the year.
"We'd like the political situation to be resolved as soon as possible," Santander's Garcia Cantera said in a Bloomberg Television interview with Caroline Hyde. "The longer it takes, the more the good performance will be at risk. In the meantime, the economy is doing well."
In April, Garcia Cantera shrugged off the political uncertainty, saying it would have a "relatively small" impact on the economy.
The Spanish economy probably grew 0.7 percent in the second quarter, according to a Bloomberg survey of economists. While that's a slight decline from the first quarter, it's still twice as fast as the euro zone's as a whole. King Felipe is meeting party leaders this week to gauge whether Rajoy, or anyone else, has a chance of winning a confidence vote in parliament to take office.
Santander's Spanish unit, its third largest, saw second-quarter profit fall 10 percent from a year earlier. Santander is closing branches and cutting jobs in its home market as low interest rates and weak demand for credit squeeze margins.
Before it's here, it's on the Bloomberg Terminal.
LEARN MORE